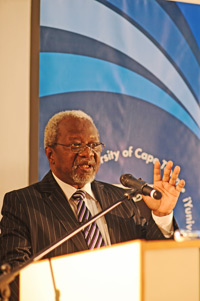 Open-minded: At the latest VC's Open Lecture, Emer Prof Paulin J Hountondji said both traditional and western schools of thought have something to teach us.
For many years, it's been said, some African writers have produced - and continue to produce - work that is more appealing to a foreign audience than an African one.
So said Emeritus Professor Paulin J Hountondji of the National University of Bénin in his Vice-Chancellor's Open Lecture, Heritage and Progress: Challenges confronting contemporary African culture, delivered at UCT on 25 September.
The problem, said Hountondji, is that Africans have to deal with both traditional knowledge systems and a modern one that are identifying and interpreting the same data, facts and events differently.
"The question is what are the current modes of co-existence of these multiple-paradigms, and how can they be better co-ordinated?" he asked.
"How can we, in this day and time, given the specific problems confronting Africa, escape this tragedy of cultural schizophrenia? How can we realise this kind of integration and coherently articulate the competing value systems that co-exist in Africa today?"
Hountondji described external-oriented literature by African scholars as "cultural extraversion", and said this was unacceptable.
"While these writers seem interesting per se, they are not original and influential enough to be considered as important landmarks in the history of the western philosophy."
Hountondji believes, however, that both the traditional and western knowledge systems have something to teach us.
"No matter what your ancestors or your group taught you, the main point is how you personally appreciate this teaching. Literature, both by African and western scholars on the African world view or African philosophy, still has something to teach us. It depends on us to appreciate and make the best possible use of this teaching."
Hountondji called for the "intellectualisation" of African languages, but to avoid locking ourselves in an African-specific philosophy.
"We must take roots in our ancestral heritage and ways of thinking, at the same time we have a right to learn from other cultures."
---
This work is licensed under a Creative Commons Attribution-NoDerivatives 4.0 International License.
Please view the republishing articles page for more information.
---