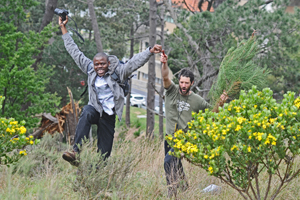 Leaping to the rescue: Tresor Mvumbi (left) and David Gwynne-Evans are spearheading the charge to save endangered flora and fauna species through CASABIO, an NGO that emphasises the need for public participation.
The Cape is home to one of the most biodiverse yet threatened floral kingdoms in the world. It is therefore fitting that five UCT students are behind a web application aiming to revolutionise the way flora and fauna are documented.
Championed by botanist David Gwynne-Evans, who recently submitted his doctoral thesis in systematics, the NGO CASABIO is affectionately referred to by him as "the Home of Biodiversity". His idea is a web-application that uses crowd-sourcing to increase our knowledge of organisms, and ultimately the ability to conserve them.
At the core of this initiative is software he calls a "biodiversity engine" because, he says, "it is an entire platform designed to efficiently and easily associate information with images of biodiversity".
Anyone with a digital camera may submit pictures to this biodiversity engine where they will form part of a comprehensive species catalogue. Gwynne-Evans emphasises "anyone", because in a continent still bedevilled by limited bandwidth, he says, the ability to work offline and exchange information using physical media like flash drives and hard-drives is critical.
CASABIO stands out from other online biodiversity websites, he adds, because it has "at every stage been designed to minimise user-effort, and maximise associated information".
"For the first time that I am aware of we stand a chance of explicitly documenting the 'web of life' in nature," Gwynne-Evans enthuses.
Tresor Mvumbi, a computer science student at UCT who has developed the user-interface for the system, is looking to develop a semantic (natural language) search interface for CASABIO as part of his master's studies. Mvumbi says the whole idea is to involve both the public and scientists in the conservation process as much as possible.
"It's a kind of social network; a bit like Facebook for organisms where people can post comments, tag pictures, and engage with each other through a common passion for nature."
Twelve years in the making, CASABIO will begin as a trial around Cape Town before expanding across the country and continent. The public launch of the biodiversity engine is scheduled for early November.
For more information visit the CASABIO website or contact Gwynne-Evans.
---
This work is licensed under a Creative Commons Attribution-NoDerivatives 4.0 International License.
Please view the republishing articles page for more information.
---