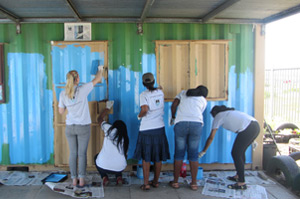 Citizenship in blue: UCT students spruce up the facilities at Mother Unite.
Who said university studies can't be hands-on?
Certainly not those behind the short course Service, Citizenship and Social Justice, part of the UCT Global Citizenship: Leading for Social Justice Programme run through the Centre for Higher Education Development (CHED), sponsored by UCT and now in its third year. Commonly known as GC, the programme springs from UCT's commitment to enhancing graduate attributes, by encouraging students to become "engaged citizens" willing to think critically about issues of global import, social justice and inequality.
To take the leap from thinking to doing, 50 students recently spent two Saturdays at the community project, Mothers Unite, in Lavender Hill. There they first explored some of the theoretical classroom issues - community service, voluntarism and development - before getting to the hands-on part, painting the containers that serve as Mothers Unite's classrooms, laying carpets, covering books, weeding and repairing leaks in the roof. They also fashioned jewellery boxes out of recycled cooldrink bottles.
The students certainly took the experience to heart.
"It [the course] has elevated my level of understanding of what it is to be involved in community development," said third-year student Lindiswa Monica Jan. Added Caitlin Tonkin: "I'm really enjoying it because of all the different people that I've met through it and hearing about their experiences and hearing about what they have to say about community service has made me think very differently about it." And observed final-year civil-engineering student Uwais Razack, "I think that through the GC programme, you are made to realise the needs of society and acknowledge the prevalent issues such as inequality and poverty through a much more untainted and raw lens."
For more information about GC, visit Global Citizen website.
---
This work is licensed under a Creative Commons Attribution-NoDerivatives 4.0 International License.
Please view the republishing articles page for more information.
---