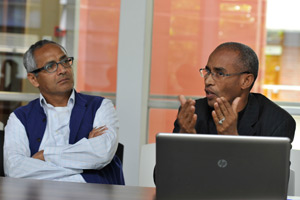 Concerned: Dr Mohamed Diagayété, (right), here with HUMA's Assoc Prof Shamil Jeppie, is worried that manuscripts in Timbuktu may be lost due to the civil war in Mali.
The rebellion raging the West African country of Mali may be some 6,000km away, but the fallout is reaching South Africa and UCT.
Amid the concerns of the tragic human costs of the conflict, the future of thousands of historical manuscripts in the city of Timbuktu also hangs in the balance. UCT scholars were part of a team that researched and made the manuscripts known to the public, while the South African government financed the building meant to house them.
But now these documents could be lost amid the conflict, says Dr Mohamed Diagayété, a senior researcher at the Ahmed Baba Institute (IHERIAB) in Timbuktu, who delivered a lecture, The Political Crisis in Mali: What fate is reserved for the manuscripts in Timbuktu, at UCT in September.
His lecture formed part of the Institute for Humanities in Africa's (HUMA) Continental Connections series, funded by the Vice-Chancellor's Fund. The series aims to advance HUMA's programme and UCT's Afropolitan agenda.
Diagayété, who has relocated to the Malian capital, Bamako, due to the political unrest, conducted his doctoral work on the Malian Fulani contribution to Islamic civilisation during the 18th and 19th centuries. He gathered much of his evidence from manuscripts housed at the IHERIAB.
It is estimated that there are over 100,000 manuscripts, some dating back to the 13th century and covering everything from law to medicine and astronomy to literature, that are scattered in libraries around Timbuktu. The city is in northern Mali, which is under the control of the Islamist rebels.
Diagayété believes manuscripts in private libraries are not in immediate danger, but those in the public libraries are at much greater risk.
The Continental Connections lectures continued on 26 September when Professor Kenneth Inyani Simala of the Masinde Muliro University of Science and Technology in Kenya spoke on Silence that Speaks: Voice and the search for humanity in the Liyongo Epic; and on 8 October there will be a talk by Dr Samuel Aniegye Ntewusu of the University of Ghana, who will tackle a topic on The Motor Vehicle and Early Development of Motorised Transport in Accra, Ghana, 1902-2008.
---
This work is licensed under a Creative Commons Attribution-NoDerivatives 4.0 International License.
Please view the republishing articles page for more information.
---