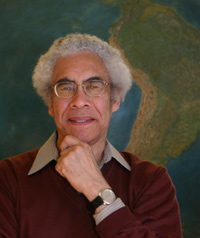 Honoured: Prof George Philander
A two-day symposium in honour of Professor George Philander, an internationally renowned scholar with strong ties to UCT, which explored controversies around climate change, took place at Princeton University in the US on 7 and 8 September.
Philander, a UCT graduate and a Professor of Geophysics at Princeton, is highly regarded for his contribution to the understanding of the El Niño and La Niña phenoma. He is responsible for naming the latter.
He also held a SARChi Chair in UCT's Department of Oceanography and initiated the Applied Centre for Climate and Earth Systems Science (ACCESS), which is now a Department of Science and Technology (DST)/National Research Foundation (NRF) Centre of Excellence.
According to ACCESS operations manager Dr Neville Sweijd, the symposium, dubbed Philanderfest, attracted some 200 scientists from different parts of the globe. The presentations and discussions focused on fundamental debates in earth system science.
"Some of the best minds in the field gathered to examine the role of the ocean in linking climate across time and space," he added.
In a session that focused on the question "Why is global warming so polarising?" American, European, African and business perspectives were pitted against one other. Dr Natalie Burls - a UCT graduate - offered an African perspective, which highlighted ACCESS's efforts to reach a pool of untapped South African students, and to attract them to science by capitalising on South Africa's exceptional natural diversity.
Visit the ACCESS website
---
This work is licensed under a Creative Commons Attribution-NoDerivatives 4.0 International License.
Please view the republishing articles page for more information.
---