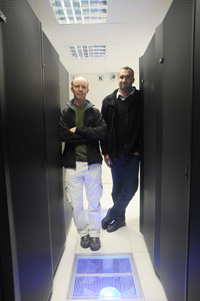 Logged in: Andrew Lewis and Timothy Carr run ICTS's highly sought-after high-performance facility.
It's never going to match the big boys, but a mid-level high-performance service offered by Information and Communication Technology Services has become a sought-after commodity among researchers at UCT.
So much so that by September this year, the facility has clocked over 225,000 processing hours, about two and a half years after it opened. It is expected to have gone well over 250,000 processing hours by the end of 2012.
Managed by technical specialists Timothy Carr and Andrew Lewis, the cluster ran its first UCT job - for Dr Ake Fagereng of the Department of Geology - in early 2010. Since then it has been used across 17 departments, using 224 cores (aka processors) and 45 specialised science packages.
The core component of any HPC system is its storage. The ICTS HPC sports an impressive 25TB scratch area - a directory to hold files and directories for short periods of time - for research data analysis, and a further 25TB for archived data.
The service was established shortly after Sakkie Janse van Rensburg was appointed as executive director of Information and Communication Technology Services (ICTS) at UCT. Within a short time of taking office, Janse van Rensburg had convinced the university to fund an HPC node within ICTS.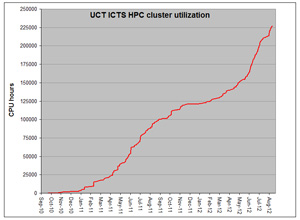 This, he determined, would be a scaled-down complement to, for example, the services offered by the nearby Centre for High Performance Computing, or even the South African National Grid, which pools computing resources from institutions and centres across the country.
"We have many researchers who are either just developing their work or are moving into new areas, and who just need some time on a smaller system at UCT," says Janse van Rensburg.
Information about what the team is doing can be found on its blog or HPC website.
---
This work is licensed under a Creative Commons Attribution-NoDerivatives 4.0 International License.
Please view the republishing articles page for more information.
---