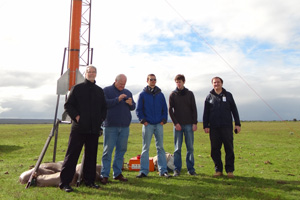 Preparing for lift-off: (From left) Deputy vice-chancellor Prof Danie Visser, Prof Mike Inggs from the Department of Electrical Engineering, Dayne Kemp, Geoffrey Kilpin, both students who took part in the CanSat project, and Dr Peter Martinez at Denel's Overberg Test Range.
Each year the Faculty of Engineering and the Built Environment offers the course Introduction to Space Technology that provides a broad introduction to space science and technology for students with no previous background in this field.
The course covers a wide range of topics presented by leading international experts in the field. As part of this course, students work on a team project in which they implement in a practical manner the knowledge gained in their lectures. The challenge for this year's students was to design and build a CanSat, a pseudo-satellite weighing at most 350 grams with the dimensions of a standard cooldrink can.
The CanSat had to collect acceleration, velocity and altitude data and transmit it to the ground in real time. It was to be launched on a rocket 1.1km into the sky and then released. It then had to navigate itself autonomously to a predetermined location on the ground.
Two teams took up this challenge. Each team was given a month and a budget of R3,000 to complete the task. In July the teams launched their CanSats at Denel's Overberg Test Range, near Arniston.
The rocket launch worked flawlessly, but unfortunately the CanSats were not released as planned and both were destroyed. This, however, has not deterred the teams from regrouping to rebuild their CanSats for another launch.
Dr Peter Martinez, the co-ordinator of this course, said, "Designing and building things for the space environment is extremely challenging. The students have learnt many lessons in this project that cannot be learnt in the classroom."
The Space Technology course will be offered again in 2013. Plans are afoot to expand the course into a postgraduate Master of Space Studies programme. To find out more, please send an e-mail.
View the rocket launch.
---
This work is licensed under a Creative Commons Attribution-NoDerivatives 4.0 International License.
Please view the republishing articles page for more information.
---