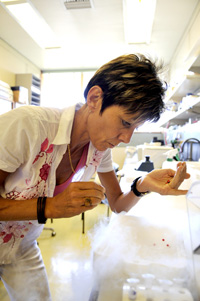 Professor Jill Farrant's star has been on the rise in recent years.
There's been a string of awards. In 2009, she won the senior (silver) medal of the South African Association of Botanists. In 2009, she became the first woman in the life sciences at UCT to receive an A-rating from the National Research Foundation, marking her as a world leader in her field, and was also inducted into UCT's College of Fellows. In 2010, she was named the winner of the Harry Oppenheimer Fellowship Award for 2009 - which that comes with a sparkly gold medal and a purse of nearly R1 million - and the Department of Science and Technology's Distinguished Woman Scientist in the Life Sciences. And towards the end of last year, it was announced that Farrant would be the African/Arab States recipient of the 2012 L'Oreal-UNESCO Award for Women in Science.
It's the nature of Farrant's work that's attracted the accolades. Her research revolves around resurrection plants - plants that appear to die in drought, but recover dramatically within 24 to 48 hours after rain, even after a year in a dry state. Working at subcellular levels, Farrant characterises the proteins and metabolites that protect the plant tissue in extreme conditions. She investigates why some plants can switch on their desiccation-tolerant genes, and others can't. And she wants to tease similar responses out of other plants - they all have the same genes, she says, and they just need to learn to use them.
The potential outcome of her work, the production of drought-tolerant crops, has the aim of addressing food security needs in Africa.
---
This work is licensed under a Creative Commons Attribution-NoDerivatives 4.0 International License.
Please view the republishing articles page for more information.
---