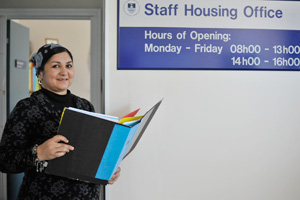 Who is who in the unit and what does their working day look like?
Based in Mill Court along Main Road in Mowbray, Jacobs' unit includes handyman Andrew Jafta, supervisor Freda Jephta, and cleaner Gladys Vongwe. Their core business is to provide short- to medium-term accommodation, aka transit accommodation, for new, permanent academics, visiting academics, and new, senior, permanent non-academic staff. Transit accommodation provides a temporary home for up to six months (or up to twelve months in exceptional cases) until the new appointees have found permanent accommodation. Contract staff members are also catered for under the same conditions. On a daily basis, Jacobs and her team take care of finances, maintenance, and all the general and incidental household issues pertaining to property management.
What are the challenges of the job?
UCT attracts world-class academics and visiting academics who have different expectations of the academic culture and environment at UCT, including staff housing facilities. "We work hard to ensure that we provide them with accommodation that makes them feel at home, and we strive to make their stay memorable," says Jacobs. Another challenge is managing time in light of the heavy 'foot traffic' through the unit and coping with the variability of the work. "No day is the same," Jacobs adds.
What are the highs of the job?
Client satisfaction and friendships made with the visiting academics (who often surprise Jacobs and her team by expressing great admiration for South Africa and its people) are at the top of her long list of high moments.
And the lows?
Being called out after hours for in-house emergencies such as lockouts, alarms going off, flooding, etc, makes the job tough at times.
Any weird moments?
Dealing with characters from all walks of life has its lighter moments. Jacobs does sometimes get requests from desperate tenants, whose temporary accommodation tenure has ended, to accommodate them in her own home.
Such situations demand exceptional patience and communication skills from Jacobs, to politely deny the tenants without hurting their feelings.
---
This work is licensed under a Creative Commons Attribution-NoDerivatives 4.0 International License.
Please view the republishing articles page for more information.
---