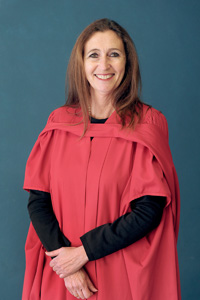 Fighting fit: The inaugural lecture of Prof Valerie Mizrahi highlighted her contribution, together with collaborators and students, to the ongoing fight against tuberculosis.
Professor Valerie Mizrahi's enthusiasm and passion for her subject, Mycobacterium tuberculosis - better known as the bacterium that causes tuberculosis - was evident as she chronicled her journey as a TB researcher in an inaugural lecture delivered on 22 August.
Mizrahi, director of UCT's Institute of Infectious Diseases and Molecular Medicine (IIDMM), shared some of the highlights of her career and in the process paid homage to her students and collaborators in the fight against the dreaded disease.
Dr Max Price, vice-chancellor, described Mizrahi's inaugural lecture, titled Knowing the Enemy: Understanding the survival and subversion strategies of Mycobacterium tuberculosis, as a "celebration" instead of an "ascent to professorship".
Mizrahi stated that the tubercle bacillus, aka TB, is "the enemy by virtue of what it has done to humanity". Worldwide there are 1.5 million TB deaths and 9 million new cases are recorded each year.
"A sobering way of thinking of what we are up against is that there is a death from tuberculosis every 20 seconds."
She calculated that in the time that it took her to deliver her lecture, no fewer than 200 people worldwide would have died from the disease. And yet, drug-susceptible TB is curable.
Both her parents are tuberculosis survivors, told Mizrahi, but the real reason for her continued involvement in the field was that it is "just an incredibly exciting field to work in and it is the science which has inspired me".
Mizrahi, who completed a doctorate in chemistry, is interested in how the tuberculosis bacterium survives in the hostile environments it encounters in the human host, and how it builds resistance to drugs.
The bug survives its hostile environments because it does not react to adversity in the same way that other organisms do, she explained. Instead of succumbing to the stresses imposed by its environment, the tubercle bacillus can turn the "stress to an advantage". Mizrahi recalled how in an experiment former student Helena Boshoff deliberately damaged the bacterium's DNA, only for it to respond by mutating and becoming drug-resistant.
Another survival mechanism the bacterium employs in an environment with a severe lack of oxygen, is "holding its breath. In the absence of oxygen TB can survive - but not divide - by respiring on nitrate". This, according to Mizrahi, "might underlie the great difficulty we have in killing this bacillus with drugs that target actively replicating organisms".
In closing she remarked that one of the reasons she returned to UCT, where she obtained her doctorate, was to become more directly involved in tuberculosis drug discovery.
"There is an urgent need for new TB drugs. Ten years ago there were no drugs in clinical development, now there are 10, but we must continue to fuel the pipeline for new drugs.
"In a country with one of the worst TB problems in the world, it is up to us to shoulder our responsibility to tackle it."
She ended by describing her fellow researchers as "among the leading TB scientists in the world".
Listen to the podcast of Mizrahi's lecture.
---
This work is licensed under a Creative Commons Attribution-NoDerivatives 4.0 International License.
Please view the republishing articles page for more information.
---