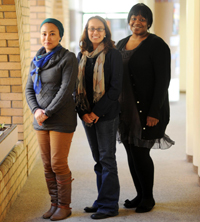 Returning to the fold: Sufia Singlee, Salona Lutchman and Thabi Chanetsa have completed their LLM studies and have now joined the academic staff in the Faculty of Law.
The Faculty of Law is reshaping its gender profile, courtesy of its recent fundraising efforts.
Over the past few months the faculty has appointed three women - including two of its graduates - on the back of its Law 150 campaign.
The three new appointments are Thabi Chanetsa, who lectured on the law of evidence in the first semester and is now teaching modules for the E-law course in the second semester; Salona Lutchman joined the faculty as a lecturer of law of succession; and Sufia Singlee is teaching labour law and business law.
The trio were among the five beneficiaries of the faculty's Academic Scholarships Programme (ASP) in 2010. As part of the ASP, which aims to attract graduates back into academia, participants were required to work as research and teaching assistants for a year either side of an overseas LLM.
Chanetsa did her LLM in international business law at University College London in the UK, Lutchman hers in international legal studies at the New York University in the US, and Singlee in human rights and social justice at the University of New South Wales in Australia.
They all passed with distinction, and had the times of their lives.
Chanetsa reported to have "thoroughly enjoyed" her courses, although she soon discovered that the LLM coursework load was not for the fainthearted. "There were many late night tears," she reports.
Lutchman described the programme as "an extremely rewarding academic experience, and I learnt as much from my professors as I did from my peers".
Singlee added: "Other than being a rigorous academic experience, my studies allowed me the opportunity to engage and learn from people who came from all parts of the globe."
One of the other two awardees opted to return to a law practice, and the other one went back to KwaZulu-Natal.
Commented Professor PJ Schwikkard, dean of the Faculty of Law: "A 100% success rate would have been wonderful, but I am very pleased with a 60% result for academia and a 100% for South Africa as a whole."
---
This work is licensed under a Creative Commons Attribution-NoDerivatives 4.0 International License.
Please view the republishing articles page for more information.
---