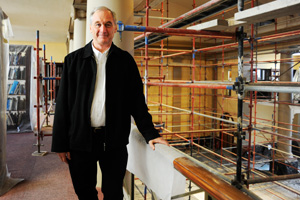 Keen interest: Geoff de Wet, former director of Physical Planning, kept a close eye on the renovations of the Jagger reading room.
"I have no desire to open a B&B or grow the ultimate rose or be a game ranger."
Instead Geoff de Wet, newly retired director of the Physical Planning Unit in UCT's Department of Properties and Services, looks forward to "the prospect of designing academic libraries - both new buildings and complete make-overs".
Thus it is fitting that the restoration of the Jagger Library nears completion as De Wet departs from UCT. He found this project "very gratifying" and "a nice way to end my career at UCT". Six other academic libraries in South Africa have benefitted from his expertise. They include Rhodes University, where he was the lead design architect, and the North West University's library for which he did the planning study.
De Wet is working on a paper he will be presenting at a conference in October titled The evolving academic library in South Africa.
Academic libraries in South Africa operate in such unique circumstances compared to their counterparts in other countries, he says.
"We have to come up with our own unique solutions, and cannot import solutions from other countries".
Also, academic libraries have not changed much since they were built; and library services have changed so dramatically since then that redesigning the space to accommodate the new functions has almost become imperative, he adds.
This avid traveller studied architecture at UCT and started working here in 1992. Though his retirement officially started on 1 August De Wet has been assigned a limited number of projects by the university, one of which is a review of the Access Management Plan; another focuses on the health sciences campus.
One of the highlights of his career at UCT is the implementation of the Jammie Shuttle. His superiors agree with this assessment.
Registrar Hugh Amoore going as far as to refer to him as the "architect of the Jammie".
Other highlights for De Wet revolve around buildings that make up part of the Upper Campus Project.
"Each project is interesting and challenging. It's what gets you up in the morning," he adds.
In his free time he hopes to see more of the world. He and his partner, Ros Wilkinson, also an architect, will be building a house on a plot he owns in Betty's Bay.
Restoration turns back the clock at Jagger Library
Researchers using UCT's Jagger Library after it reopens on 20 August will not be blamed if, on entering this national monument, they feel as if they're stepping back in time.
They will enter the building, which houses the UCT African Studies Collection, through its original entrance, go up a staircase leading into an anteroom with beautiful mosaic floors and enter the Jagger reading room through the double doors, which originally served as the entrance to this room. Once inside they will find the set-up more or less like it was before the 1960s, when grand-scale renovations took place.
The tables and chairs they will see are the pre-1960s originals that were used in the library. Power and network points will be conveniently situated near the tables, so that although the appearance of the room might hark back to a bygone era, the facilities will be those of a contemporary library. All books or material will have to be retrieved by the librarians. This was how the Jagger Library originally operated.
Further behind-the-scenes restoration work will take place after the reopening, but according to Geoff de Wet, former director of the Physical Planning Unit in the Department of Properties and Services, the restoration is 95% complete.
He adds that they could not pass up the opportunity to "turn the Jagger Library back to what it originally was - a quiet, dignified and scholarly place".
---
This work is licensed under a Creative Commons Attribution-NoDerivatives 4.0 International License.
Please view the republishing articles page for more information.
---