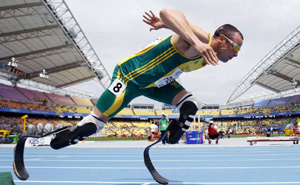 Flex-Foot Cheeting? Oscar Pistorius's famous carbon fibre blades have divided opinions across the athletic and scientific communities (picture: famouspeopleinfo.com)
Don't expect a tsunami of swimming records à la Beijing 2008 in London, cautioned a UCT exercise physiology expert just hours before the Olympic torch was lit.
Since suits such as swimming attire manufacturer Speedo's LZR Racer, the costume that streamlined the path for 94 of the 96 swimming medals to be won in 2008, have been banned, UCT's Dr Ross Tucker expects a significant drop in performances in the pool at the 2012 London 2012 Summer Olympics.
A packed audience listened attentively as Tucker, of the UCT/MRC Research Unit for Exercise Science and Sports Medicine (ESSM), shared insider insights into hidden issues that had a profound impact on the nature of the historical games.
Despite revised swimming attire regulations, expect similar debates to follow Nike's new TurboSpeed outfit for track sprinters that claims to be able to shave up to 0.23 seconds off a 100m sprint, says Tucker.
Historically, though, doping has proved a "bigger problem" than clothing in terms of competitive imbalance, explains Tucker. Athletes typically would cheat either by consuming illegal hormones and other prohibited substances, or by artificially manipulating oxygen levels in their blood.
However, Tucker's message of "qualified hope" showed that, thanks to significant advances in anti-doping controls, the tide is steadily turning in favour of clean sport.
"It's a pharmacological arms race; we were losing it before, but now we are winning," he happily reports.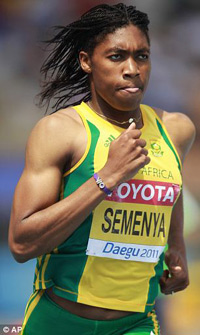 A particularly touchy issue for South African sports fans has been the seemingly unending furore around whether double-amputee sprinter Oscar Pistorius's carbon-fibre prosthetic legs give him an unfair advantage over his able-bodied rivals. Tucker conveyed research that showed that Pistorius's Flex-Foot Cheetah blades did, in fact, give Pistorius a significant advantage against his naturally-limbed rivals, both in terms of energy expenditure and the amount of force required to propel the athlete across the track.
He also cast doubt over the evidence given to overturn Pistorius's 2008 ban from able-bodied competition. Not that Pistorius will let such debates distract him from the task at hand.
And, what of South Africa's medal chances?
Tucker chuckled when relaying South African Sports Confederation and Olympic Committee (SASCOC) president Gideon Sam's somewhat hopeful claim that the South African Olympic team was potentially good for up to twelve medals.
"They don't give Olympic medals for potential," countered Tucker, putting his head on the block with a conservative prediction of four medals: two silver and two bronze.
Let the games begin.
While South African runner Caster Semenya (pictured above) and her team-mates gear up to give the London 2012 Summer Olympics their best shot, Dr Ross Tucker shed light on some of the off-track issues that often dominate headlines (picture: AP)
---
This work is licensed under a Creative Commons Attribution-NoDerivatives 4.0 International License.
Please view the republishing articles page for more information.
---