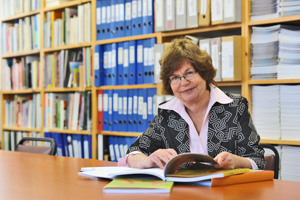 Engagement and advocacy: Prof Shirley Pendlebury, outgoing director of the Children's Institute.
Stealth, an irreverent sense of humour, and going home to a glass of good wine or a walk on the beach is how Professor Shirley Pendlebury, outgoing director of the Children's Institute (CI) coped with leading this multi-disciplinary unit, founded just over a decade ago.
Charmaine Smith
Having retired at the end of June after five years at the helm, Shirley Pendlebury reflects with pride and realism on the institute's value, achievements and challenges.
"Perhaps the clearest value for the university is that the CI is a strong example of social responsiveness in the way that it combines research, public engagement and advocacy. In a very public way, through the media, through participation in public fora, the institute shows that UCT is serious about addressing important social issues in South Africa."
The CI's 10th anniversary in 2011 came on the eve of a larger celebration: the Faculty of Health Sciences' centenary this year. During Pendlebury's tenure, the institute's flagship The South African Child Gauge has matured into a publication with intellectual and scholarly independence; the institute plays a valuable role in a civil society movement that greatly influenced a new Children's Act; and the CI works with the Presidency to understand and address poverty and inequality in South Africa.
But a soft-funded, multi-disciplinary research unit that strives to inform policy and practice has its challenges. These Pendlebury describes as "sitting at the intersection of different spheres of activity".
"As an academic, there's an imperative for you to work in as much depth as you can, and to be theoretically rigorous. But where project deadlines and obligations to donors and external partners drive the work, you can't always afford the desired depth. If you spend too much time on more refined arguments, more sophisticated theory, more evidence, you lose the moment for action. You have to move fast to make a difference in the public sphere."
On the other hand, she cautions against "jumping too quickly to defending a position for ideological reasons, rather than on grounds of strong evidence and careful argument".
Leading a team that straddles research, advocacy and training also means inevitable tensions concerning meaning and purpose.
"There are not only differences in disciplinary perspective; people often work with different ends in mind - for some, actions and their intended consequences are more important than the depth of understanding, which for others may be the more crucial end. So inevitably, you are working in a contested terrain - which is very much a microcosm of the larger contestations in the policy arena."
Pendlebury will spend the next three months at the University of Virginia, Charlottesville, as a visiting academic. However, she will retain links with UCT as a member of the CI's SANPAD-funded Healthy Cities for Children research project, part of a larger collaboration led by the African Centre for Cities. She will also continue to supervise postgraduate students in education, while exploring future collaborations within UCT.
(The appointment of a new CI director is under way. An acting directorate, led by Helen Meintjes, will hold the reins until then.)
---
This work is licensed under a Creative Commons Attribution-NoDerivatives 4.0 International License.
Please view the republishing articles page for more information.
---