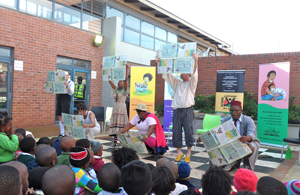 No kidding: Cast members of the CWBSA show kids and adults at the Harare Library in Khayelitsha just how much fun reading can be.
Very understandably, literacy has become a solemn issue in South Africa; so much so, however, that educators and policymakers sometimes forget that sometimes people read just because it's, well, fun.
The UCT-based Project for the Study of Alternative Education in South Africa (PRAESA) has long been working to popularise reading for enjoyment as a way to promote bi-literacy development in South Africa. It's done so by emphasising "meaning making" and the use of stories in teacher training and community-based projects such as its Vulindlela Reading Club in Langa.
Its latest and larger-scale project to get children and adults enthused about reading and telling stories launched this June, a project known as Nal'ibali, a national reading-for-enjoyment initiative run in collaboration with Avusa Media and supported by the DG Murray Trust.
As part of this partnership - nal'ibali, which means here's the story in isiXhosa - a number of selected newspapers in the Avusa stable will publish free weekly bilingual reading-for-enjoyment supplements in English and isiXhosa in the Eastern and Western Cape, and in English and isiZulu in Gauteng and KwaZulu-Natal. Rico Schacherl of Madam and Eve fame has provided illustrations for the initiative in support of the campaign.
To kick-start Nal'ibali on the ground last month, PRAESA teamed up with Clowns Without Borders South Africa (CWBSA) and France to host a series of 40-minute shows at schools, clinics and the Harare Library in Khayelitsha. These shows, according to CWBSA founder and director, Jamie McLaren Lachman, were created to bring literacy, reading and storytelling to life.
This is also central to the Nal'ibali initiative, says PRAESA director, Dr Carole Bloch. "Reading and storytelling become personally meaningful when people have opportunities to experience the satisfaction and power of words in print."
That goes for both children and adults, adds Bloch.
"On one hand, children thrive on the attention and emotional and intellectual nurturing they get when adults connect with them through stories. On the other, adults can't help but appreciate how clever their children actually are as they see for themselves how language and intelligence unfolds."
The Nal'ibali initiative is also expanding the network of community reading clubs initiated and supported by PRAESA since 2006.
In another important part of the initiative, a series of Nal'ibali training workshops on running reading clubs are being offered by the PRAESA team in partnership with a number of organisations in each of the four provinces. Collaborations are also developing to support and research the process of setting up and running demonstration reading clubs that, says PRAESA, "can inspire and motivate others to get involved".
For more information, visit www.nalibali.org or to volunteer at a reading club, email join@nalibali.org. You can also show your support at www.facebook.com/nalibali.
---
This work is licensed under a Creative Commons Attribution-NoDerivatives 4.0 International License.
Please view the republishing articles page for more information.
---