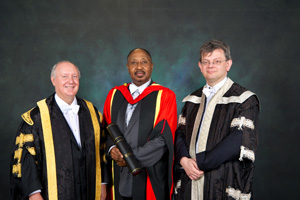 Two for two: Prof Thandabantu Nhlapo (middle) at Glasgow University with the university's chancellor, Sir Kenneth Calman (left), Prof Anton Muscatelli, principal and vice-chancellor.
Deputy vice-chancellor Professor Thandabantu Nhlapo spent a few weeks in June brushing up on his Glaswegian.
This for his return to his alma mater, the University of Glasgow in Scotland, where he received the Honorary Degree of Doctor of the University on 22 June. It was only Nhlapo's second visit back to the Glasgow campus since 1978, his four-year stay there among the most memorable times in his life, Nhlapo says.
After recognising that his BA in law from the University of Botswana, Lesotho and Swaziland was not going be enough to land him a spot for his articles, Nhlapo headed for Scotland in 1974 on a Luthuli scholarship, named in honour of Nobel Laureate Albert Luthuli, who the Glasgow student body had elected as their rector and chair of Council in 1962. Nhlapo graduated with an LLB (Honours) in 1978, with a double major in law and politics.
As his was a modest scholarship, Nhlapo had to complement his income with casual labour - including his four-year Saturday job as cleaner and sometimes salesman at "the sharpest hi-fi emporium in town", McCormack's of Bath Street. "I was the envy of all the African students for landing this 'desirable' post!", he recalls.
Equally fond are his memories, he says, of being outside of the African continent for the first time, and realising that he was coping quite well with the academics at the university. He would also pick up on the local language, and learn to love the fierce Celtic-Rangers soccer rivalry.
The doctorate is the second accolade he will have received from Glasgow, following on from his Principal's Prize in 1989. The honorary degree comes as formal recognition his contribution to UCT governance and to national and international initiatives, such as his work on the initial Project Committee on Customary Law at the South African Law Reform Commission in the Nineties.
"Overall, these were four of the most exciting and fulfilling years of my life," he says of his time in Scotland, "coming a close second to the four years I spent in Lesotho 'finding myself'."
Glasgow was equally glowing in its praise of their alumnus.
"The University of Glasgow is proud to identify itself with talent, achievement, and the best of human endeavour," said the university's principal and vice-chancellor, Professor Anton Muscatelli, "and so was delighted when Professor Thandabantu Nhlapo, a former student and graduate, accepted the Honorary Degree of Doctor of the University. Professor Nhlapo has worked in the fields of law and education with great distinction and we were honoured to welcome him back to the university as an alumnus who has played such a key role in the evolving legal system of post-1994 South Africa."
---
This work is licensed under a Creative Commons Attribution-NoDerivatives 4.0 International License.
Please view the republishing articles page for more information.
---