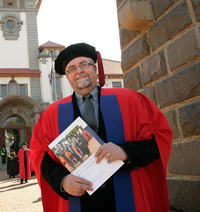 Literary luminary: Prof Etienne van Heerden has received an honorary doctorate from the University of the Free State.
UCT's Professor Etienne van Heerden is not that familiar with the University of the Free State (UFS), never having studied or taught there.
UFS knows him well, however, hailing Van Heerden as "the most acclaimed Afrikaans writer of his generation" when it presented the multi-award-winning writer with an honorary Doctor Litterarum, or DLitt, at its winter graduation ceremony on 15 June.
"It is the honour of the Free State University to recognise a person who has changed the South African landscape positively," read the university's formal citation.
Van Heerden, the Hofmeyr Professor in Afrikaans and Netherlandic Studies at UCT, is no stranger to awards and accolades - he's picked up the acclaimed WA Hofmeyr Prize, the ATKV Prize, the CNA Prize and the Hertzog Prize, among the country's most respected literary kudos. His fiction has been published in no fewer than 13 languages, including Dutch, English, French, German and Greek.
But the honorary doctorate, his first, is something special, he said in his acceptance speech.
"I accept this honour - and it is a deeply humbling honour - as a celebration of what all our country's storytellers engage with - the difficult craft of storytelling, the space, the Kalahari, opening up before you once you've penned those initial, classic words, 'Once upon a time ...'. It is then that it becomes your duty to make the stone more stony, to fight the habitual both in language and in form, to grapple with the particular laws of art, to write against the easy conclusion and the glib truth."
Citation: English | Afrikaans.
---
This work is licensed under a Creative Commons Attribution-NoDerivatives 4.0 International License.
Please view the republishing articles page for more information.
---