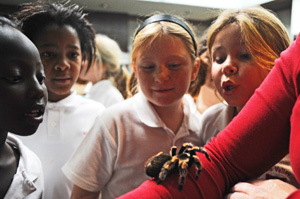 Spidey sense: Learners get up close and personal with a Mexican Redknee tarantula - quite harmless, despite its fearful facade - on the arm of Zoology's Andrea Plos.
Most people would shudder and shrink at the sight of a squirming, squealing bat and a tarantula that, perched on someone's arm, appears just way too tranquil for the viewer's good.
Forged of sturdier stuff, obviously, were the 100-plus grade-two learners from the Facreton and Sun Valley Primary Schools who visited UCT's Department of Zoology on 12, 13 and 14 June. They kept their phobias and fear reflexes in check as they oohed and aahed, and then stroked, poked and went eyeball to eyeball with a Cape long-fingered bat (who clearly didn't like the attention) and that oh-too-becalmed Mexican Redknee tarantula.
The learners had to settle for peering through glass at the spider's more venomous South American cousins.
The annual tour by the learners - this year themed Bats and Spiders - is part of an outreach arrangement between the UCT department and the schools, explains principal technical officer Andrea Plos, who oversees the visit along with Lizelle Odendaal, a PhD student researching bats. It allows the learners to learn more about the world's animal kingdoms, while the department's researchers and senior students get to show off the fruit of their studies.
The UCT reporter didn't learn much, though - not from two rooms away.
---
This work is licensed under a Creative Commons Attribution-NoDerivatives 4.0 International License.
Please view the republishing articles page for more information.
---