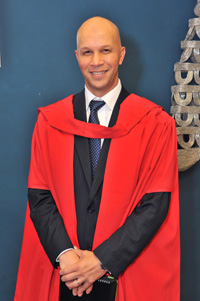 Headway: Prof Anthony Figaji and his colleagues have tried to take paediatric neurosurgery in South Africa to new heights.
If you'd asked a young Anthony Figaji what he wanted to be when he grew up, it's unlikely he would have said 'a paediatric neurosurgeon'.
Instead, he says, he dreamed of becoming a break dancer, or a gymnast, a trapeze artist, a professional athlete - even a musician. But, what must be a loss for the big top and the world's dance floors was neurosurgery's gain, as the dean of the Faculty of Health Sciences, Marian Jacobs, so aptly put it at Professor Figaji's inaugural lecture on 30 May.
Today, some career adjustments later, Figaji says that neurosurgery is in his DNA. "I'm hardwired that way."
Figaji, who lectures in the Division of Neurosurgery, is a paediatric neurosurgeon, the head of paediatric neurosurgery at the Red Cross War Memorial Children's Hospital, and a prolific researcher to boot. With his recent ad hominem promotion, he became UCT's first professor of paediatric neurosurgery, and the first ad hominem promotion to full professor in the Division's history.
In his words, the lecture - titled Brain/Child. Interrupted - marked a "long journey" that started with his childhood in Woodstock during apartheid.
"Being schooled at Harold Cressy High School in the turbulent 1980s shaped my thinking," he said. "I think I underestimated how much this affected me and how it spilled over into my medical career. I feel very strongly that the quality of care for children should never be determined by the amount of money their parents make, or whether they were born in Cape Town or New York."
It's a rule he's extended to public hospitals.
"Working in the state sector should never be an excuse to deliver a poorer quality of care either. Academic institutions should be places where the boundaries can be extended; where highly specialised services not available in the private sector can be offered. This has been our goal."
The burden of injury in South Africa, he explained, is massive - injury accounts for the highest burden of disease in Cape Town when measured as causes of premature mortality, even higher than HIV/AIDS - yet there is very little published on head trauma, which accounts for the majority of trauma-related death and disability in South Africa.
To add insult to injury, it's almost impossible to get funding in South Africa for research into head trauma, which contributes to the historically poor standing of South Africa in neurotrauma research.
"We have been poor at treating head trauma - especially given the fact that due to our high trauma load, we should be leading the field globally.' This may have influenced previous injury-preventative strategies to some extent, he said.
"Of course prevention is most important, but our previous preventative strategies have not substantially reduced our trauma load. Head trauma remains a massive and under-recognised problem - a forgotten, or silent, epidemic; we need to be better in treating it."
But producing tide-turning research will require extensive out-of-the-box thinking; thinking that cannot rely only on cookie-cutter control tests. "With head injuries there is a huge amount of heterogeneity."
This, he said, calls for treatment that is targeted.
That's exactly what he and the rest of the neurosurgery team do at Groote Schuur and Red Cross. How the body reacts to the primary head injury, he went on, depends on its regulatory systems - that may be disrupted - and various biochemical, inflammatory and physiological consequences that then go on to injure the brain further.
This approach, he added, is also employed when treating tuberculous meningitis, a disease that progressively strangles the brain's vessels, and other conditions that can cause acute coma. Brain injury is an enormously complex process, and cannot be treated in simple ways. Measuring pressure, oxygenation, cerebral blood flow and metabolism in the brain gives a better insight into what's happening inside it; which, in turn, makes it possible to target treatment appropriately.
"We need a much more comprehensive understanding of what happens in the brain."
This monitoring maxim applies especially to the surgery of tumours in risky areas of the brain and spinal cord, Figaji explained. Until now, neurosurgeons have had 'no indication of whether you've done damage until the patient wakes up".
To counteract this, Figaji employs a method called intra-operative neurophysiological monitoring, which, in very lay terms, reduces the body's sensory and motor systems to basic electrical principles that can be monitored continuously during surgery.
The method involves attaching electrical nodes to a patient's face and body to continuously monitor the electrical signals in the nervous system. So, should the surgeons hit a spot or move the head in a way that may potentially injure these nerve fibres, they can adjust their surgery without having done any permanent damage.
It's no wonder that Figaji is already internationally recognised for the management of acute brain injury in children, and that his inaugural lecture marked a significant goalpost in his career.
But research and titles aside, to the children Figaji treats he will be remembered mainly as the doctor who put them back together again.
Download the podcast of Prof Anthony Figaji's lecture.
---
This work is licensed under a Creative Commons Attribution-NoDerivatives 4.0 International License.
Please view the republishing articles page for more information.
---