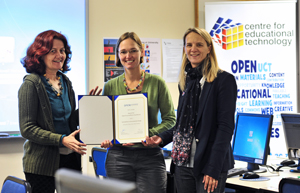 Open classroom: From left: Winner Dr Gina Ziervogel (centre) with Glenda Cox (right) of the Centre for Educational Technology and the director of OpenUCT, Associate Professor Laura Czerniewicz.
Going online with one of her courses has won UCT lecturer Dr Gina Ziervogel a major international open-content award.
Ziervogel's third-year course Vulnerability to Environmental Change was selected as one of five '" out of a possible 17,000 shared by universities worldwide '" to scoop the course Awards for OpenCourseWare Excellence in the category for text and still images. The award is one of a number presented by the OpenCourseWare Consortium, an international community of hundreds of higher education institutions committed to advancing OpenCourseWare '" course material created by universities and shared as open content '" and global education.
Ziervogel's four-week online course is made up of six modules that covers the concept of vulnerability and its origin, and looks at different methods for undertaking vulnerability assessments and adapting to climate change.
The material is presented as PowerPoint slides, and includes references, supporting audio material and teaching activities for each section
Ziervogel '" senior lecturer, researcher and P-rated scientist in the Department of Environmental and Geographical science '" says that when she started lecturing in 2009, she could not find material on this subject online, especially in relation to the southern African context. Thanks to open content, which makes such teaching and learning materials freely available online, Ziervogel can now share the material she developed with others who want to teach on vulnerability and adaptation to environmental change.
"I felt very strongly about making my material available online because the field of adapting to environmental change is an urgent one, particularly for Africa, and needs to be part of university curricula," she says.
Funding for this was made possible by a grant Ziervogel received in 2011 from OpenUCT, intended to help staff convert their material into open content.
Ziervogel is not the first UCT researcher to win the award. Last year, Matumo Ramafikeng, then with the Division of Occupational Therapy, won the award for the texts and illustrations category for her work on a conceptual framework model of occupational therapy.
---
This work is licensed under a Creative Commons Attribution-NoDerivatives 4.0 International License.
Please view the republishing articles page for more information.
---