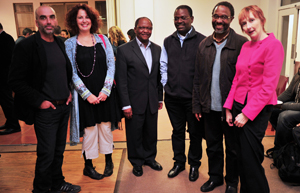 Partners: Section heads Assoc Prof Nick Shepherd, Assoc Prof Ana Deumert, guest speaker Prof Njabulo S Ndebele, Prof Francis Nyamnjoh, Prof Lungisile Ntsebeza and head, Assoc Prof Jane Bennett, at the launch of the School of African and Gender Studies, Anthropology and Linguistics.
Those behind the establishment of the new School of African and Gender Studies, Anthropology and Linguistics (AXL for short) can possibly relate to Odysseus and his epic odyssey.
It may not have been a 10-year trek, but the formation of the school had its share of obstacles, suggested head, Associate Professor Jane Bennett, at AXL's formal launch on 21 May. Faculty board meetings, discussions in corridors and debates in the media were the order of the day over the past year as scholars and executives to and fro'd over the future of the Centre for African Studies (CAS), and over new ways to study and teach African studies at UCT.
"There was a space where the whole faculty was asked to think very seriously about what it would mean, not simply to create a new school, but perhaps to change the face of the faculty itself," said Bennett.
But now AXL is up and running, borne out of a partnership between the African Gender Institute, the Department of Social Anthropology, its Linguistics Section and the CAS. This partnership will allow the School to explore issues '" gender, the construction of the term 'Africa' and the work done in the name of this construction, culture, identity, the formal structure of languages, and the humanities itself '" in new and varied ways and from different perspectives, promised Bennett.
Clear of some very stormy waters, thanks to the perseverance of many, the School is now travelling, she said, "towards synergies which demand debate on the challenges of creating imaginative, intellectual, and politically engaged communities whose gaze on the world is, unqualifiedly and complicatedly, African".
---
This work is licensed under a Creative Commons Attribution-NoDerivatives 4.0 International License.
Please view the republishing articles page for more information.
---