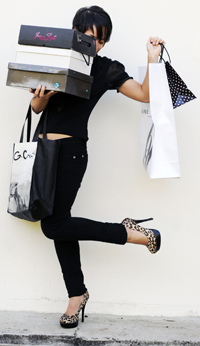 Shop till you stop: South African consumers – affluent or otherwise – have become penny-wise in the wake of the global economic slowdown.
The global economic recession and the credit crunch have left consumers on edge, and wary with their wallets.
They are now more cautious with their spending, says UCT's Unilever Institute of Strategic Marketing. Along with economists, the Institute worries that the spendthrifty 'era of exuberance' – between 1999 and 2007, when the credit-fuelled economic boom led to rampant consumer spending and soaring consumer and business confidence – will not return anytime soon.
This means marketers need to rethink their tried-and-tested strategies if they are to stay ahead of the game, according to Unilever's research project, Wake Up! Shake Up! Like consumers, most marketers have known only the years of plenty, "an era of guaranteed demand".
But the goalposts have been shifted, says Wake Up! Shake Up!.
That study, completed last year, involved over a year of quantitative and qualitative research, interviews with consumers across the board, and analysis from 70 of South Africa's leading economists, academics, financial analysts, industry specialists, and business and marketing forecasters.
Professor John Simpson, director of the Institute, compares South Africa's downturn to an "economic tsunami".
Those towards the upper end of the socio-economic spectrum rode out the downturn largely unscathed, he says. But those lower down the income chain were hit very hard and are still dealing with the fallout, whether through debt repayment or job losses. Now almost out of the recession, South Africans across the income spectrum have become more cautious with their money than ever, Simpson adds.
The study found that 69% of South Africans are more guarded about their spending than they were a year ago. Also, 58% said they are financially worse off, and confidence levels are still low.
Purchasing patterns have altered drastically, with 55% saying that when in shops, they are now more likely to compare prices than they were before
"All this points to the likelihood that things will not revert to the pre-recession status quo," says the Institute's Martin Neethling. While consumer debt is dropping slowly, unemployment is still high; and there is a high level of dependency on government grants. And it isn't just the lower-income groups tightening their belts.
Another Unilever study, called Top End, investigated the thinking of South Africa's more affluent consumers. These are consumers who earn over R30 000 a month, and are described by the study as "the backbone of the local economy".
These consumers make up only 10% of the country's tax-payers, but earn over half the country's taxable income. Their estimated annual spend stands at over R300 billion.
It's a segment that's transforming, says the Institute. Just under 37% of these consumers are black.
Although this segment was the least affected by the recession, they too are beginning to be penny-wise.
"The vast majority of respondents reported using only low-cost airlines, with 96% preferring to fly economy class," reported Simpson.
In the wake of these findings, the Institute has a few words of advice for marketers: be strategic and efficient, as opposed to operational and reactive.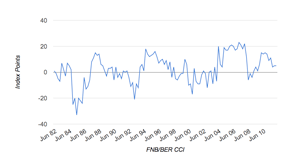 Consumer confidence index: South Africans have had mixed feelings about the economy over the past three decades. (Source: Bureau for Economic Research.)
---
This work is licensed under a Creative Commons Attribution-NoDerivatives 4.0 International License.
Please view the republishing articles page for more information.
---