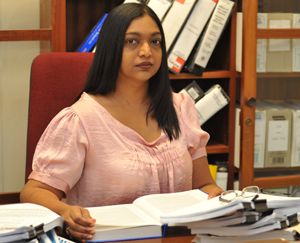 What does her working day look like?
Isaac reports to Claude Bassuday, director of legal services and secretariat in the Office of the Registrar, and is assisted by senior secretary Noluthando Tiya. Much of her day is taken up with issues of misconduct by students. Her day starts with correspondence to students, parents and academics on disciplinary matters. Then she prepares charge sheets and summonses. Isaac is also responsible for holding pre-hearing meetings with students and their representatives. She then presents cases before the University Student Discipline Tribunal, representing UCT. She works closely with the Discrimination and Harassment Office on matters of sexual harassment and discrimination. It's part of Isaac's job to present educational talks on student misconduct at various student meetings, and to facilitate community service arrangements when students are so sanctioned.
What are the challenges of the job?
These include making sure that students turn up at meetings and disciplinary hearings – not always as easy as it sounds. Legal representatives often delay the process with lengthy negotiations.
What are the highs of the job?
Cross-examination is always a thrill for Isaac. Getting effective sentences on serious cases of misconduct, and simply being part of a process that contributes to effective governance and shaping the lives of young people are highlights of the job. "We actually get many positive comments from students who have been convicted and sentenced," Isaac reports.
And the lows?
It's frustrating when students learn very little from the process and walk away with a blasé attitude, or when parents condone their children's misconduct. The worst, Isaac says, is when an otherwise good student makes one terrible decision that results in rustication or expulsion. "It's very sad for me when their academic careers come to an end like that. So, yes, contrary to popular belief, I do have a heart ... possibly buried beneath many layers of steel, but it's definitely there."
Any weird moments?
Funny moments have become part and parcel of Isaac's day. Among them was one occasion when a female student followed her to the bathroom, and stood right up against the bathroom door. "Subsequently, in the hearing before the tribunal, she flung herself to the ground, kicking and screaming, while we just carried on as though we couldn't see her behaviour." And there was the student who, after he was convicted and expelled, followed Isaac into her office and kept throwing himself to his knees, saying how sorry he was. Even stranger, however, was when Isaac held a pre-hearing meeting with a student in her office in the afternoon, and later that evening saw the same student singing on the Idols SA television programme.
---
This work is licensed under a Creative Commons Attribution-NoDerivatives 4.0 International License.
Please view the republishing articles page for more information.
---