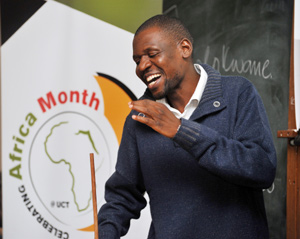 .
Popular discussion about the relationship between the Mapungubwe and Great Zimbabwe regions in southern Africa probably needs re-examining, says UCT archaeologist Dr Shadreck Chirikure.
Since the 'rediscovery' of Mapungubwe - the pre-colonial state located in what is today South Africa's Limpopo province - in 1933, scientific theory, spearheaded by archaeologists such as Thomas Huffman, has largely held that from the ashes of the once-thriving kingdom emerged another great southern African civilisation, Great Zimbabwe.
Not so, argues Chirikure.
Speaking at the first of two lectures organised by the Department of Archaeology as part of UCT's Celebrating Africa Month, Chirikure systematically debunked several cornerstones to such theories. These claimed, first, that Mapungubwe, world-renowned for its golden artefacts, set the 'cultural precedent' for the region; and that its demise in AD 1290 due to adverse climate changes (after its birth in AD 1220) led to the establishment of the famous Great Zimbabwe, the ruined city that was once the capital of the Great Zimbabwe state.
In fact, Chirikure argues, Mapungubwe may not have crumbled in the 13th century at all. Referencing a combination of radiocarbon dating, Raman spectrometric studies of cultural artefacts and Bayesian modelling, he concludes that Mapungubwe might well have survived for centuries after AD 1290.
Further, he suggests that it (and its cultural trademarks) bears a more striking cultural resemblance to other ancient communities in the adjacent regions of Botswana and south-western Zimbabwe. "The evidence for cultural precedence is weak," he argues.
Why, then, the previous confusion?
"Perhaps we have been blinded by the gold," Chirikure chuckles.
New dating evidence indicates that a number of related communities in southern Africa - which are contemporary with the foundation of Mapungubwe and Great Zimbabwe - were trading with the Indian Ocean coast, were experimenting with stone wall construction, and kept large herds of cattle, he adds.
Our interpretations are conditioned by the fact that some of sites were looted, making comparisons difficult. But there is hope for the future, a hope that is created by ever improving techniques of study."
---
This work is licensed under a Creative Commons Attribution-NoDerivatives 4.0 International License.
Please view the republishing articles page for more information.
---