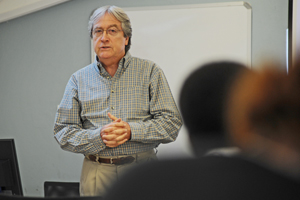 Kessel is the co-editor of Interdisciplinary Research: Case Studies from Health and Social Science.
Prominent inter/transdisciplinary research scholar and UCT graduate Professor Frank Kessel of the College of Education at the University of New Mexico, recently spent three months at UCT as an AW Mellon Visiting Fellow. Monday Paper spoke to him.
MP: What is interdisciplinary/transdisciplinary research?
FK: In a nutshell, interdisciplinary (ID) and transdisciplinary (TD) research are interactive, integrative processes where researchers work collaboratively, each drawing from their own discipline-specific perspectives to develop a shared framework involving new methods and conceptual models to address a common research problem (for ID); and in the case of TD, a problem that often involves meaningful community engagement. These approaches create opportunities for students and staff to move into new 'interesting-to-them' spaces, where they can explore other scholarship and disciplines, and synergistically share ideas and generate knowledge that could benefit the wider society.
MP: Why is doing ID/TD research so urgent, and why now?
FK: It has become increasingly evident that urgent social problems such as poverty, health inequities, violence, and sustainable development call for innovative ID/TD approaches. As important, this mode of research is increasingly being encouraged by many global academic and funding agencies.
MP: What's happening at UCT?
FK: In a number of ways UCT already practises the principles embedded in the ID/TD approach, eg the Vice-Chancellor's Strategic Initiatives, such as the African Climate and Development Initiative (ACDI) and the Safety and Violence Initiative (SaVI); various programmes in the Research Office; and an upcoming workshop on transdisciplinary research in the Faculty of Health Sciences. The fact that the Mellon Visiting Fellowship has been given to someone involved in this movement is a sign of the times. And UCT can become even more of a leader in this direction - perhaps in partnership with Stellenbosch University and the University of the Western Cape - by drawing on institutional-change models available in both the global South and North.
MP: What about teaching?
FK: To have innovation that will facilitate greater creative collaboration across departmental and faculty lines, ID and TD can be introduced at many levels. A modest but significant change to undergraduate teaching would be the cross-listing of courses that students from multiple departments, or even faculties, could take. At another level a series of courses labelled Interdisciplinary Studies could be offered.
---
This work is licensed under a Creative Commons Attribution-NoDerivatives 4.0 International License.
Please view the republishing articles page for more information.
---