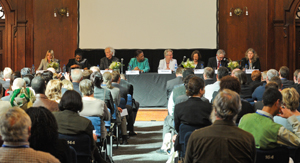 Tabling exchange: Addressing alumni at the DAAD panel discussion were Dr Katharina von Ruckteschell-Katte, Prof Hlengiwe Mkhize, Prof Helmut Schwarz, Minister Naledi Pandor, Prof Annette Schavan, Prof Margret Wintermantel, Dr Max Price and Karen MacGregor.
From 13 to 15 April some 130 South African and international alumni from the German Academic Exchange Programme (DAAD) and the Alexander von Humboldt Foundation, plus a slew of local and international higher education bigwigs, met at UCT to reflect on and to encourage further academic exchange between South Africa and Germany.
The alumni conference, titled Change by Exchange: Higher education and research transformation in South Africa and Germany, kicked off with a welcome by UCT deputy vice-chancellor and Humboldt alumnus Professor Danie Visser. Visser reiterated the weekend's mission - that of strengthening the already strong research relationship and encouraging academic traffic between the two countries.
"These good forces have not come about by accident, but are the results of the careful nurturing of research ties over decades," Visser said.
Delivering the keynote lecture, Professor Neville Alexander, another Humboldt alumnus and director of UCT's Project for the Study of Alternative Education in South Africa, turned to the work of a UCT colleague, Professor David Cooper. Borrowing from Cooper's 2011 title, The University in Development: Case studies of use-oriented research, Alexander questioned the university's part in a modern knowledge economy that perhaps benefits industry more than it does society, lamented the neglect of the humanities in democratic societies, and argued how the hegemony of English is worsening the divide between the North and the South and is endangering local languages.
On the second day, the group attended talks and workshops on skills development, affirmative action and internationalisation, among other themes. And delegates networked, of course.
On the eve of the opening of the German-South African Year of Science, which started on 16 April, UCT vice-chancellor, Dr Max Price, and Minister of Science and Technology Naledi Pandor formed part of a panel that met to discuss research co-operations. The panel also included the head of the Goethe-Institut in South Africa, Dr Katharina von Ruckteschell-Katte; deputy minister of higher education and training, Professor Hlengiwe Mkhize; the president of the Alexander von Humboldt Foundation, Professor Helmut Schwarz; the federal minister for education and research in Germany, Professor Annette Schavan; DAAD president, Professor Margret Wintermantel; and University World News editor, Karen MacGregor.
Inequality, poverty and joblessness drive a great deal of the policy actions and investments that the government attempts to make, Pandor said. She added that Africa's developmental challenges ask for directed research and international research partnerships.
And novel approaches, Price echoed.
"We look forward to even stronger bonds in the future because increasingly the big questions of our time can only be solved by inter- and trans-disciplinary research and by researchers that span national boundaries," said Price.
---
This work is licensed under a Creative Commons Attribution-NoDerivatives 4.0 International License.
Please view the republishing articles page for more information.
---