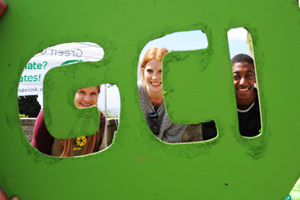 2012 - an average movie and, according to some interpretations of an ancient Maya calendar, Mother Earth's final year.
With the end of the world in mind, UCT's Green Campus Initiative (GCI) has decided to bring its annual Green Week - suitably themed Because the World Ends This Year - forward to the first semester.
The event, a collaboration between the GCI and UCT, will run from 16 to 20 April, well short of the December doomsday.
The GCI's Keketso Motjuwadi explains that 2012's Green Week theme was borne of a desire to highlight a very serious subject - the deteriorating condition of our planet - in a non-traditional way.
"If we keep going the way we are going, then things could actually start changing to the point where one day the world, as we know it, could actually end because of environmental changes,"says Motjuwadi.
"If the problem is vast, there's still a place for each person to play a part, no matter how small," adds GCI chairperson, Kate Pallett.
The point of this theme is to make the students aware that even though the environment is deteriorating and the end of the world has been predicted many times, everybody can still play a part in preventing that from happening.
"A lot of events this year are about 'greening' lifestyle changes, and how students can get involved on an individual level," says Pallett.
n addition to the traditional 'greening' of the official UCT website, Green Week comprises everything from a 'vegilicious' bake sale to a talk on green economies that will be hosted with the UCT Black Management Forum society.
For more information as well as the programme of events on campus, visit the GCI's sustainability hub.
---
This work is licensed under a Creative Commons Attribution-NoDerivatives 4.0 International License.
Please view the republishing articles page for more information.
---