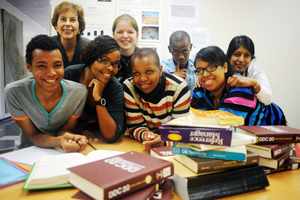 Still on the books: (From left, back) Assoc Prof Karin de Jager, students Shelley Wilkin and Sipho Fako, and Assoc Prof Jaya Raju; and (from left, front) students Jeremiah Pietersen, Andiswa Mfengu, Lena Nyahodza and Camille Lewis have reason to celebrate the continued existence of library and information studies at UCT
Having just survived the axe, library and information studies at UCT has taken a new direction.
In a rather unusual move, the Library and Information Studies Centre (LISC), formerly the Centre for Information Literacy, has been moved - physically and structurally - from the Centre for Higher Education Development (CHED) to UCT Libraries. Teaching, however, will be conducted through the Faculty of Humanities, which will also award the final qualifications.
The new model has distinct advantages, believes Associate Professor Jaya Raju. It allows LISC to tap into the resources of "a valuable enterprise" in the form of UCT Libraries.
"UCT Libraries has librarians who are at the cutting edge of information service delivery in an academic and research environment, and working closely with them would serve to enrich the teaching and research agendas of LISC."
Library and information studies (LIS), first offered at UCT in the 1930s, is an inherently small discipline and hence often economically vulnerable
At UCT, LIS qualifications are offered at postgraduate level, and include postgraduate diploma (PGDip), master's and PhD qualifications.
For a while it looked as if the entire suite of programmes would be closed at the end of 2011, sparking an outcry from the public and the government. UCT finally decided against closing the programme, and chose instead to restructure it.
It is now offered on a full- and part-time basis, and in block modes. This has led to the jump in student numbers from between three and six in the past years, to 20 PGDip students this year.
"The minute you offer this flexibility, individuals who are employed are willing to come to the party," Raju says.
Raju believes that the programme must offer a "21st-century curriculum" that speaks to new trends in the profession, such as digitisation, open access and social networking. Links with overseas and continental partners, too, would be essential.
In the process, says Raju, they hope to build the next generation of LIS academics and researchers to contribute meaningfully to UCT's strategic goals.
---
This work is licensed under a Creative Commons Attribution-NoDerivatives 4.0 International License.
Please view the republishing articles page for more information.
---