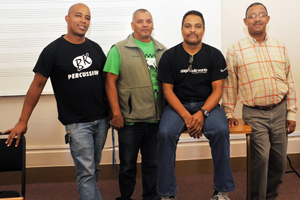 Making music happen: Charles Potgieter Jnr, Neville Hartzenberg, Samuel (Sammy) Kruger and Charles Potgieter Snr are the 'nerve centre' of the College of Music.
The team comprises Building Supervisor Neville Hartzenberg, sound technician Samuel Kruger, receptionist Charles Potgieter Snr, and departmental assistant Charles Potgieter Jnr.
What do they do?
Known as the 'nerve centre' of the SACM, the four describe themselves as "all-rounders" who, between them, do anything from welcoming visitors, staff and students to preparing classes and venues for workshops and concerts. They also help the college with preparing copies, dealing with enquiries from UCT staff and the public, airport trips and driving staff and students around.
What are the challenges of their jobs?
The number of personnel in the unit has gone down from eleven in 1979 to five today, although the SACM has grown over the same time. This means the four are often on standby, making it difficult to plan their private lives. And last-minute requests amplify the problem. "In most cases we can't say no, and just try our best to help," says Potgieter Snr.
What are the highs?
That Hartzenberg has worked for the SACM for 37 years, while Kruger and Potgieter Snr have both served the college for 33 years, is proof enough that the SACM is a fun and rewarding place to work. "The environment is good, and the staff and students are always fantastic to work with," Kruger explains. And nothing is more satisfying than seeing some of the students they have worked with going on to conquer the world, as the likes of Jimmy Dludlu and Pretty Yende have done.
And the lows?
Bottlenecks can be very stressful. Multi-tasking sometimes requires the four men to triage requests; and in the process, some eleventh-hour requests must either be put on the back burner, or just never get done. "The way students and our colleagues treat and respect us is amazing. It is so bad when we can't help them, because we are just too busy with more immediately urgent requests," Potgieter Snr says.
The strange and the unusual?
When international producers turn up at the very last minute with technical riders that are completely different from the ones sent by their tour managers, and the team has to race to fulfil these new requests, which often include strange demands - such as a grand piano with the lid off and 30 different-coloured ping-pong balls inside. And warding off enquiries from fans of the supernatural about the Strubenholm ghost, which is said to roam the corridors of the old building every Saturday evening at 10pm.
---
This work is licensed under a Creative Commons Attribution-NoDerivatives 4.0 International License.
Please view the republishing articles page for more information.
---