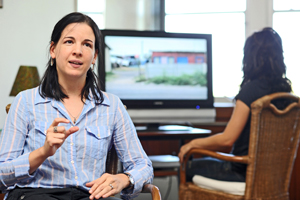 Feelings you can't hide: Dr Melike Fourie is leading a multi-disciplinary study that employs TRC footage to measure empathy in post-apartheid South Africa.
A new study led from UCT will use scenes from the TRC to explore empathic responses of South Africans across cultures and divides.
Sure, empathy - that capacity to recognise and share common feelings with other beings - may be a universal among humans, but recent research shows that this complex phenomenon may be affected by various interpersonal and cultural factors. For example, we are more likely to have enhanced empathy for members of our own group, than for outsiders.
So imagine the many faces of empathy in multicultural South Africa, where groups haven't always seen eye to eye.
A new study at UCT wants to more than just imagine. Employing scenarios seen at the hearings of the Truth and Reconciliation Commission (TRC), researchers hope to map brain empathic responses to expressions of forgiveness and remorse in post-apartheid South Africa.
The cross-disciplinary endeavour, which was pioneered by former psychology lecturer Professor Pumla Gobodo-Madikizela (now at the University of the Free State), brings together the expertise of the Department of Psychology's Professor Mark Solms, postdoctoral student Melike Fourie in the Department of Psychology, Professor Dan Stein of the Department of Psychiatric Health and UCT's Brain Behaviour Initiative (BBI), and Professor Jean Decety of the University of Chicago, US, a leading scholar on the social neuroscience of empathy (see sidebar).
"The team brings together a range of expertise to focus on key issues regarding the ability to empathise with others, and willingness to forgive, which are crucial in post-apartheid South Africa," said Stein about the BBI's involvement. "The BBI aims to do research that is particularly relevant to South Africa."
Consisting essentially of two parts, the first part of the study will examine the brain responses of a group of men and women (half black and half white) between the ages of 35 to 50 to portrayals - re-enactments of scenes from the TRC - of victims showing forgiveness or no forgiveness, and of perpetrators displaying remorse or no remorse. While viewing these video clips, researchers will then capture the neural 'empathic' responses in the brain using functional magnetic resonance imaging (fMRI).
The study's second segment will examine the specific neural differences that may exist between black and white people when viewing in- and out-group members in distress.
"While we know that people tend to respond with an in-group empathic bias toward members of the same racial group versus members of a different racial group, we do not know how and whether this response is affected by significant previous racial discrimination," says Fourie.
So first up, researchers want to explore the neural correlates of empathy using an ecologically valid approach, ie exactly what goes on in the brain when perceiving real people in emotional distress. In addition, they want to investigate the enduring effects of systemic racial discrimination during apartheid on bidirectional empathetic responses - a sort of empathic quid pro quo - between black and white South Africans today. "We believe that the historical experience of being white or black during apartheid may have lasting, intergenerational consequences in the way people respond to racially charged situations," says Gobodo-Madikizela.
"If we find significant differences [in the neural responses of black and white groups] the last phase of the study will focus on psychoanalytical interviews to explore possible implicit factors linked to these responses," says Fourie.
The initial phase of the study will conclude late-2012, early-2013. After that, the scope of the study will extend to how people who suffered significant childhood maltreatment may differ in their responses to empathy-eliciting stimuli, compared to individuals without childhood hardship.
"Trauma is a significant issue in the South African context," says Fourie. "In a previous adult study sample, nearly 50% of participants had experienced some form of maltreatment as a child."
And the study shows potential for international application too. On a recent visit to UCT, Decety - as a guest of the departments of psychology and psychiatry and the Brain Behaviour Initiative - said about the research: "The study will tell us so much about empathy and forgiveness in the South African context. But a lot that we learn will also be transferable cross-continentally."
Researchers have just received ethical approval for the research, and plan to start scanning people mid-2012.
---
This work is licensed under a Creative Commons Attribution-NoDerivatives 4.0 International License.
Please view the republishing articles page for more information.
---