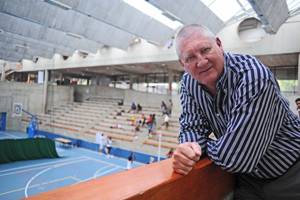 Eye on the ball: Jonathan Stones is UCT's new manager of sport and recreation.
Jonathan Stones is a man with a vision. UCT's new manager of sport and recreation in the Department: Student Affairs brings a wealth of top-level management experience and nous to the post vacated by John Donald. His impressive CV includes a two-year stint as managing director of South African Rugby, during which time a South African team won the Super Rugby tournament and the Springboks won the World Cup. Monday Paper caught up with the ambitious head honcho just days after officially starting in the post on 1 February, to hear what sports-mad UCT students and staff have to look forward to:
Q: What drew you to university sport, in general, and UCT specifically?
I think sport is an important element within a student's life at university. People talk about the holistic development of students. Our universities, UCT in particular, offer a wonderful academic experience. There needs to be, in essence, a counter-balance, an out-of-classroom experience. That's what I'm interested in; assisting that.
Q: What's your vision for UCT sport?
To meet the aspirations of all our students, from a mass-participation level, all the way up to the elite end. We've got to meet the needs, the aspirations of a complete array of student sporting abilities.
Q: Anything unique to the UCT sport structure that gives you confidence that you can execute your plan?
I had a tour of the infrastructure last week from John Donald. I was in awe of what facilities there are here, but I'm also acutely aware that we are infrastructure-constrained. When you have the number of students that want access to sporting facilities that UCT has, we've got to find a way both to make our existing facilities operate in an optimal manner, and to find opportunities for expanding those facilities.
Q: In the few days you've been in the post so far, have you identified any major areas you feel could be improved?
I had the fortune to meet with a number of people in the finance department as well as one of the clubs before I'd even officially started at UCT, and I think the budgeting process is something that can be looked at. I'll say the real challenge for us is, in fact, infrastructure. There are too many sportsmen and -women within the UCT community wanting to engage in sporting activities. Our current facilities appear to be overloaded. That's a real challenge for us. How do we expand those?
Q: How does your thinking about transformation fit into UCT's transformation agenda?
Look, transformation is an issue that everyone in South Africa has to address. It's been a thorny issue. The professional sports codes have struggled with it. We've tried quota systems; we've tried various development issues. Some have worked, some haven't. We've got to find what works for this institution. All I can say is that I will attempt to do what is right for this organisation in terms of reflecting greater South African society. It's to everyone's benefit.
---
This work is licensed under a Creative Commons Attribution-NoDerivatives 4.0 International License.
Please view the republishing articles page for more information.
---