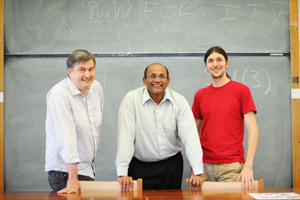 Smashing good time: Prof Raju Venugopalan (centre), a guest of Prof Heribert Weigert (left) and Dr WA Horowitz, has been talking particle physics at UCT.
Forget everything you've heard about an expanding universe; the truth is that, for high-energy physicists, the world is getting smaller.
Bound by their common interest in smashing particles together to bring to light the secrets of matter and the early universe, a group of UCT physicists are currently hosting a visit by Professor Raju Venugopalan, leader of the nuclear theory group at the Brookhaven National Laboratory, New York.
At Brookhaven, home to the Relativistic Heavy Ion Collider (RHIC), renowned as the world's second-highest-energy heavy-ion collider, Venugopalan and others are planning a US$1-billion upgrade to address questions that cannot be answered by the numero uno of particle accelerators, Europe's Large Hadron Collider (LHC).
Over his visit to South Africa, sponsored through the United States' Fulbright Programme and South Africa's National Institute of Theoretical Physics, Venugopalan has been able to lecture students in a capacity-building exercise, and to attend an international workshop in Stellenbosch. More generally, he's been helping UCT's fledgling high-energy physics group - spearheaded by the likes of 'recent' appointments in the Department of Physics, Dr WA Horowitz and Professor Heribert Weigert - establish itself.
Gone are the days when countries like India, where he was born, and South Africa were the backwaters of the science world, says Venugopalan. Not only can students and scientists from across the globe now share in the work of the LHC, RHIC and other such facilities, but developing countries can also "contribute to international science in a big way".
"Every country should try and go as wide as possible," he says, "from pure research to the applied stuff, because that has all kinds of ramifications that are unanticipated."
---
This work is licensed under a Creative Commons Attribution-NoDerivatives 4.0 International License.
Please view the republishing articles page for more information.
---