The foyer's buzzing with students, some lugging cases, some carrying washing to the well-stocked laundry; and most humming to their iPods. It's safe to say that Obz Square is no longer the gargantuan res-in-waiting in Observatory; it's a living and breathing community of UCT folk. Walking through its arteries - or corridors, if you must - is something of an olfactory road trip. Yes, it's very big, so expect the scent of anything from burnt toast and bacon to incense and soap to greet you. We knocked on a few doors to find out what life is like in UCT's newest residence that, in case you don't recall, boasts 880 rooms, and 92 fully equipped kitchen, among other features.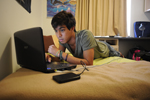 Rohan Ramgutty, third-year student in BSc construction: "Obz Square has been built really well. It has everything a student needs."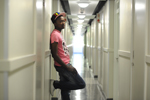 Thato Makhatholelo, third-year business science student: "It's a leap from the catering residences; the facilities are great, and having an on-suite bathroom is a bonus."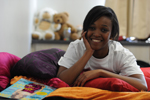 Third-year chemical engineering student, Farirai Sanyika: "I am very excited about being in faculty hubs [Obz Square have tried as far as possible to keep faculties together - eight to 11 student in the same discipline make up a faculty hub]. It promotes respect among us; because when you're busy, they're busy."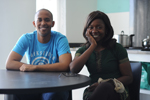 Natasha Narh, a fourth-year quantity surveying student, cooking up a traditional Ghanaian rice dish in the kitchen: "It feels like a modern home, what with its unique look and luxurious amenities."
Loyiso Maqubela, a masters' student in psychological sciences: "The communal kitchens are a great idea - it gets people to meet and interact, creating something of a micro-community."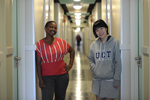 Yuka Shimamura, a social anthropology honours student who hails from Japan: "I was surprised by how big the campus and residence is. In Japan, the residences are much smaller housing about 32 people per residence."
Noba Jakalase, doing her postgraduate diploma in accounting: "I absolutely love it!"
---
This work is licensed under a Creative Commons Attribution-NoDerivatives 4.0 International License.
Please view the republishing articles page for more information.
---