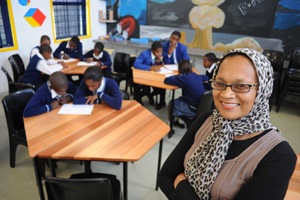 Principled: Principal Phadiela Cooper believes it's the extra work that learners are expected to put in that's set COSAT apart.
Principal Phadiela Cooper likes to say that her school has been flying under the radar for some years.
But in January, the Centre for Science and Technology (COSAT) in Khayelitsha suddenly lit up everyone's monitors when the Western Cape Education Department (WCED) named COSAT as one of the top ten schools in the province. Based on its performance in the 2011 National Senior Certificate (NSC) examinations, COSAT was an unlikely rival for the likes of Rustenburg Girls High, Herschel High School, Bishops and UCT's parent institution, the South African College of Schools.
The WCED's rankings in this 'excellence in quality' category looked at schools' pass rates in the NSC exams, the rates of bachelor endorsements (ie learners who qualify for admission to university), and the ratio of passes in mathematics relative to the number of grade 12 candidates at the schools. Coming in at number nine, COSAT's results more than measured up to the others in the top 10.
All 70 of the grade 12 learners that wrote the exams passed. More than 78% did so with university endorsements. And 98.6% (69 learners) passed mathematics.
"This is an historic moment for the Western Cape," said Premier Helen Zille when the WCED presented awards to schools and individual learners in January. "For the first time ever, a school in one of the most disadvantaged parts of South Africa is one of our top 10 schools in the province."
But if COSAT, established as a Dinaledi school focusing on science, technology, engineering and mathematics training in 1999, can now be mentioned in the same breath as its more celebrated companions, by most other measures it is, still dwarfed by them. The grounds of the school's new premises in Ilitha Park in Khayelitsha are modest, even if the green lawn is carefully maintained and the school's facilities are a cut above those of surrounding schools. (You can't miss the school, pointed out Khayelitsha residents when asked for directions.)
It benefited from being classified as a Dinaledi school, but its operating budget is equally unassuming. (It has to raise its own funds for any add-ons.) As is typical for township schools, parents pay no fees, so the school foregoes tens of thousands of rands in income. (Even more so since it started taking in Grade 8s and 9s in 2011.)
And if it did match the likes of Rustenburg and Herschel and Rondebosch and Westerford for NSC results, it doesn't boast the same pedigree. Rustenburg averaged about three subject distinctions per learner in 2011, and Herschel more than four; the 70 COSAT learners mustered 'only' 40 in total.
Even so, the 2011 results are no out-of-the-blue spike, emphasises principal Cooper. The learners' performances have been no less impressive over the past few years. The school has had a 100% pass rate for all except one year since 2001. Its average pass rate over 2008 to 2011 is 81%.
COSAT's results can be accredited to the way to the school is run. Days are long, running from eight in the morning till just after four in the afternoon; that includes an hour at the end of the day when students get extra lessons or can do their homework, with support from teachers. And the learners are expected to come in for an extra four hours of lessons on Saturday, a project financed through fundraising. And teachers, Cooper says, are dedicated and motivated.
"We do what we're supposed to do, and we do it well," she says. "We get the basics right - we get our learners in class, and we get our teachers in class."
Cooper also praises the school's former principal, Dr Jonathan Clark, for putting the school's regimen in place. Clark, now director of the UCT-based Schools Development Unit (SDU) and UCT's new Schools Improvement Initiative (SII), headed up COSAT during its formative years from 2000 to 2007.
He, in turn, believes that other factors also contributed to the school's success. The focus on mathematics and physics keeps the curriculum simple and clean, for example. It is a small school, even with the new Grade 8 and 9 recruits. It's been able to recruit specialist teachers. Those teachers are able to inspire learners. And the school is well managed, which sets it apart from many others.
"It's a school that works."
COSAT is one of the 20 schools in Khayelitsha that participate in the SII's 100Up project, designed to help prepare 100 learners from the area for possible admission into UCT.
---
This work is licensed under a Creative Commons Attribution-NoDerivatives 4.0 International License.
Please view the republishing articles page for more information.
---