SRC 100Plus good sports | Re-cycling for change | Freshers' braai draws a crowd | Sax Appeal galore | HAICU Condom dress competition | Residences welcome newbies | Parents' Orientation | Orientation kicks off en masse | International students beat it out | HAICU flash drives deliver the message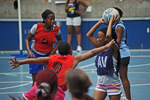 A new addition to O-week was the SRC 100Plus sports tournament. Taking place in the Sport Centre and on the adjacent Green Mile (rugby fields), greenhorns got a taste of some sports on offer at UCT. The two-day social event was organised by the Students' Representative Council and led by sport and recreation co-ordinator Lorne Hallendorf, and sponsored by energy drinks company 100Plus. First-years, new undergrads and international students could try their hand at a range of martial arts, as well as football, gymnastics, netball and volleyball, among other codes.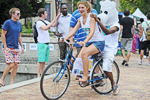 Poles apart: Environmental and geographical sciences student Lisa Bloss (front) and law student Ohene Ampofo (the polar bear) of UCT's Green Campus Initiative cycled for change on Jammie Plaza as O-week shot into gear on 6 February. Societies, blistering heat, sports clubs, and free gifts were the order of the day. Jammie Plaza buzzed as enthusiastic freshers negotiated dozens of stalls and impressive athletic demonstrations.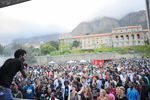 Pump it up: The annual Freshers' Braai is one of the highlights of the orientation programme. And not just because of the free boerewors rolls. As hosts, the Students' Representative Council also lays on some entertainment. This year included a dance competition, with UCT Radio providing the music. Loudly.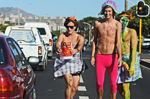 Saxxy get-up: Sax Appealers hit the streets of Cape Town on 9 February, getting their saxxiest kit on or off (why boys, why?) for charity. This year some 35 000 copies were up for sale, with about 2 000 students doing the peddling. RAG hopes to raise R600 000 in sales.
HAICU Condom dress competition
Choice made: On 6 February, UCT's HIV/AIDS Institutional Co-ordination Unit (HAICU) hosted its latest condom fashion show. Popular DJ Craig de Sousa and DJ Suga were there to spur things on. Pictured here is the winner, Phathiswa Magangane (left), with runner-up Khanyisile Masango.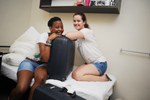 Two peas in a pod: Best friends and roommates Nomvuso Maitin and Anthea Thompson were among those who set up their new 'home' at UCT as residences opened in January. With the addition of newly-completed Obz Square, about 6 600 students will take up residence accommodation this year.
Parents of new students were given a reassuring welcome by UCT delegates when they attended the Parents' Orientation. Nervous parents and caregivers were put at ease by, among others, DVC Professor Crain Soudien, who introduced the guardians to the range of support systems and extra-mural activities at their progeny's disposal.
Orientation kicks off en masse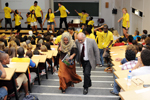 Great escape: Students' Representative Council (SRC) president Insaaf Isaacs and deputy vice-chancellor Professor Crain Soudien head for the exit as the fun hits the fan in Beattie Theatre. An expected 4 200 first-years got their first taste of life at UCT as orientation kicked off in January. UCT expects to have some 25 200 students on campus in 2012.
International students beat it out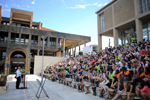 To the beat: DVC Prof Crain Soudien was among those who welcomed the hundreds of international students who joined UCT on either full-degree programmes or as semester-study abroad (SSA) students this year. As has become tradition, the International Academic Programmes Office hosted a drum circle for the SSA cohort. Staged by members of the local company Drum Cafe, the occasion allows the students to get into the rhythms of UCT and Africa.
HAICU flash drives deliver the message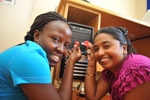 If you connect, protect: First-years in 2012 received special flash drives in their orientation packs. The flash drives contain information (that can't be deleted) about the services offered by UCT's Transformation Services Office. The content, which is presented in an interactive way, includes material on transformation, sexual and racial harassment, disability and HIV/AIDS. Pictured here are HAICU project officers Stella Kyobula (left) and Lucina Reddy, who also co-designed the content.
---
This work is licensed under a Creative Commons Attribution-NoDerivatives 4.0 International License.
Please view the republishing articles page for more information.
---