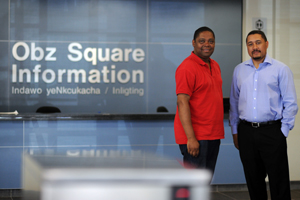 New beginnings: Jerome September and Dr Kevin Thomas are enjoying their early days as wardens of Obz Square.
By its size and appearance, the new Obz Square residence could easily be mistaken for yet another posh Cape Town hotel - including one of the students, who asked for directions to the swimming pool. In her case, the management were quick to remind her that she is in fact in a living and learning environment, as UCT authorities call residences. Days after the residence opened its doors to its first occupants and with more moving in, Monday Paper caught up with wardens Jerome September, manager of student governance and leadership in the Department: Student Affairs; and Dr Kevin Thomas, senior lecturer in the Department of Psychology. September, the former assistant warden at Kopano residence, is in charge of the 550 senior undergraduate students in the second-tier section (from ground to fourth floor). In turn, Thomas, a former assistant warden at Liesbeeck Gardens residence, is responsible for 330 postgraduates residing on floors five to seven.
What have their days been like thus far?
With the help of sub-wardens and the Residence Life Association (known as house committees in other residences), the wardens have ensured that the signing-in of students has run smoothly, that students have been inducted into the ethos of the building, that residents have been helped to adapt to their new homes, and that any other problems arising have been addressed.
Any challenges so far?
The mix of senior undergraduates and postgraduates is tricky to negotiate, as they have different lifestyles. Postgraduates often prefer a quiet environment, while undergraduates tend to be more 'social'. The challenge is to have a vision for the building that suits everybody as far as possible. So students have been asked to come up with living agreements at their hub/kitchen level that will be enforced by the management.
What have been the early highlights?
Seeing the building 'come to life' for the first time, and students' reactions to the out-of-the-box facilities.
Any teething problems?
The plumbing's not quite played along, and the water in some of the showers was running either hot or cold, but not that ideal middle ground. The problem is being addressed.
---
This work is licensed under a Creative Commons Attribution-NoDerivatives 4.0 International License.
Please view the republishing articles page for more information.
---