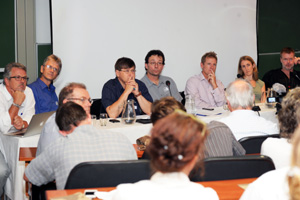 In the hot seat: A panel of experts gave feedback on COP17 at UCT recently. From left to right: Stef Raubenheimer, Prof Harald Winkler, Prof Guy Midgely, Prof Mark New, Jon Duncan, Anna Steynor, and Prof Richard Calland.
Though there were a few watershed moments, COP17 was, in many ways, a success. So said a panel of experts at a feedback session titled What happened at COP17? Hear the inside story, held at UCT on 24 January.
The panel discussion on the showcase 17th Conference of the Parties, held in Durban at the end of 2011, was convened by UCT's newly established African Climate & Development Initiative (ACDI) and the Cambridge Programme for Sustainability Leadership and Sustainable Energy Africa. Professor Mark New, ACDI director and UCT's pro vice-chancellor for climate change, chaired the event.
One of the main, and exacting, achievements of the Durban talks, said Professor Harald Winkler of UCT's Energy Research Centre, was the agreement on a second commitment period - aptly dubbed the Durban Platform - under the 1997 Kyoto Protocol, which holds only developed nations to emission-reduction targets.
The Durban talks also launched a plan toward a global climate accord that will legally bind all major greenhouse gas emitters - including the for-now exempt China and India - to an agreed outcome.
Professor Richard Calland, of UCT's Department of Public Law, reported that the conference secured an agreement towards a Green Climate Fund. This $100 billion-a-year kitty (be it still empty) will help poorer nations adapt to, and mitigate, climate change.
Mitigation's little brother, adaptation, also made a vital if belated appearance at the Durban negotiations. "It's taken much longer to emerge in the negotiations as a significant serious issue," observed Professor Guy Midgely, chief director of the climate change and bio-adaptation division at the South African National Biodiversity Institute.
And while the spotlight was on the main players, a lot of the action came out of COP17's side events. "There was a definitive thrust toward flexibility of adaptation pathways," said Anna Steynor, representing UCT's Climate System Analysis Group, which participated in several adaptation-type side events.
Also speaking at the UCT discussion was Jon Duncan, an analyst at the Old Mutual Investment Group. "The take-out for us [from COP17] is that it seems there will be a global price on carbon," he said. "We need to better understand the risk exposure of South African listed equity to a carbon tax."
Stef Raubenheimer, chief executive officer of non-profit organisation SouthSouthNorth, closed the panel discussion with a word of caution about the fray ahead. "Between now and 2015/20 we are going to have the mother of all fights between the 40-odd countries that produce most of the world's greenhouse gases about the remaining carbon space."
Download the podcast of the panel discussion.
YouTube video:
---
This work is licensed under a Creative Commons Attribution-NoDerivatives 4.0 International License.
Please view the republishing articles page for more information.
---