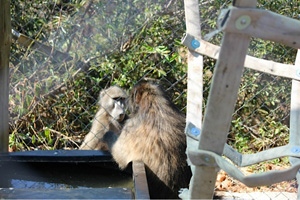 On the move: Baboons settle into life at the Centre for Animal Rehabilitation and Education in Limpopo.
Last year, UCT decided that it would no longer use wild-caught baboons for medical research.
This decision was inspired by the Senate Animal Ethics Committee's (SAEC) resolution some time ago to move away from such research, as part of its commitment to aspire to the current standards of best international practice in research ethics.
In the wake of this decision, UCT - although it has not been involved in either the trapping or housing of research baboons - made the additional commitment to purchase 11 female baboons that were intended for research purposes. UCT then transferred these animals to a baboon sanctuary, the Centre for Animal Rehabilitation and Education (CARE), near Phalaborwa in Limpopo, where they will live for the remainder of their lives.
UCT also provided financial and logistical assistance to make this possible.
The complex operation required, among other things, intricate contractual arrangements, import and export permits from the Western Cape and Limpopo, tests on the baboons for TB and other infectious diseases, the building of special high-volume cages that are adapted to allow the gradual integration of the baboons into a group or groups, and, of course, sophisticated transport arrangements.
The settlement of the baboons at CARE was completed early this year - and the baboons are doing very well. Three have already been integrated with each other, and CARE's intention is eventually to form one large group of about five to six baboons, and smaller groups of two to three.
Deputy vice-chancellor responsible for research, Professor Danie Visser, said that "the inspiration for what has turned out the be a great success story came from the former chairperson of the SAEC, Dr Elisa Galgut, of the Department of Philosophy; Associate Professor Mike Picker of the Department of Zoology was centrally involved in realising the project; while the director of the Animal Unit, Dr Bert Mohr, took responsibility for getting all the logistics in place; and a great many other people assisted in one way or another to make this idea a reality".
To learn more about the work of CARE, see Primatecare.
---
This work is licensed under a Creative Commons Attribution-NoDerivatives 4.0 International License.
Please view the republishing articles page for more information.
---