Every graduation ceremony has as many stories as it has graduands, but you'd be hard-pressed to beat that of Dr Melinda Griffiths.
| | |
| --- | --- |
| | |
| Doctors in the house: Dr Melinda Griffiths (centre) with her father, Prof Charles Griffiths, and mother, Dr Roberta Griffiths | Family business: BBusSc graduate Vuyiswa Nzimande (third from right) wasn't short of moral support; among those who attended her graduation were (from left) aunt Mano Ngcobo, mother Phumelele Nzimande, grandmother Nozipho Nzimande, father Blade Nzimande (taking time off, sort of, from his duties as minister of higher education and training) and sister Nontobeko Nzimande-Zondi. |
At the graduation ceremony of the Faculty of Engineering & the Built Environment (EBE) on the afternoon of 13 December, Griffiths became the third member of her family to receive a PhD from UCT. Her father, Professor Charles Griffiths of the Department of Zoology, received his in 1974; her mother, Roberta, hers in 1980. By the by, Griffiths made it onto that 1980 platform as well, as her mother was pregnant at the time.
With her doctorate in chemical engineering, Griffiths also completes another remarkable feat, and perhaps a UCT first - her four degrees have been completed in four different faculties. She received her undergraduate degree in molecular and cell biology from UCT's Faculty of Science; did her honours in medical microbiology in the Faculty of Health Sciences; she then won a Bill and Melinda Gates Scholarship to Cambridge where she did a master's in bioscience enterprise, a degree taught jointly by Cambridge's Judge Business School (qualifying the degree, in part, as a commerce qualification); and has now earned her doctorate from the EBE.
(In 2009 Mail & Guardian listed her among its collection of 300 Young South Africans to take to lunch for her doctoral work on the possible production of biodiesel by microalgae, aka the microscopic version of the slimy algae that typically form at the bottom of ponds and rivers.)
There were a few more stories we've cherry-picked.
Dr David Potter (addressing, in thumbnail, the gathering) was presented with an honorary doctorate in engineering science (see Monday Paper article) at the same ceremony where Griffiths received her doctorate. Also at that gathering, Professors George Janelidze and Hans-Peter Kunzi (in absentia) were welcomed as members of UCT's College of Fellows (see Monday Paper article).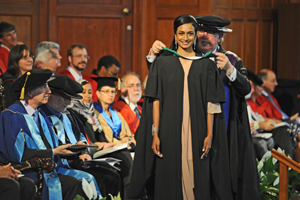 Not to be Miss'ed: A few days after being named First Princess in the Miss SA finals, Remona Moodley was back on stage, this time as a UCT graduate.
Fresh from being named First Princess in the Miss South Africa finals on 11 December, Remona Moodley swapped her sash for a graduation gown to pick up her BSc in electrical engineering.
And this morning, 14 December, at the Faculty of Commerce's second ceremony for the week, Dr Blade Nzimande, the minister of higher education and training, and his wife, former SABC group executive Phumelele Nzimande, were among the families and friends who braved the rainy weather to support the graduands. The couple's daughter Vuyiswa received her BBusSc in actuarial science at the ceremony.
Download the citation for Dr David Potter.
---
This work is licensed under a Creative Commons Attribution-NoDerivatives 4.0 International License.
Please view the republishing articles page for more information.
---