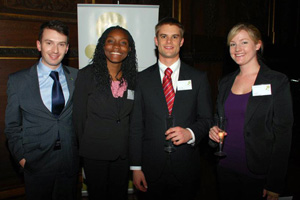 Hail the conquering heroes: (From left) William Attwell, Unesu Moyo, Andrew Fisher and Brigid Kell celebrate after winning the 2011 Copenhagen Competition.
Watch out, world treaties, South African students are crack negotiators.
A team of four UCT law students demonstrated this when they pipped the hosts, Denmark's University of Copenhagen, and rivals from Yale University and Singapore in the 2011 staging of the Copenhagen Competition. In doing so, they've become the first team from Africa to win the event.
In this annual competition staged by the University of Copenhagen, students from "top" universities from around the world - and representing make-believe countries - negotiate an agreement on a "highly topical, controversial and politically sensitive" topic. These themes chosen in collaboration with senior officials from international organisations like the World Trade Organisation.
This year the students had to hammer out the terms of one remaining article in what would be a binding agreement around a fictitious international Agreement on Access to Food.
In the finals on 1 December, the UCT team was judged to have out-traded the teams from the National University of Singapore, hosts the University of Copenhagen, and Yale. The team was made up of LLB students Andrew Fisher, Brigid Kell and Unesu Moyo, and William Attwell, who is completing a master's degree in public law.
Prepped by Debbie Collier of the Department of Commercial Law, the team negotiated on behalf of the Republic of Kenako, a country that has a striking resemblance to South Africa. The name, they explain, was borrowed from the 2010 FIFA World Cup slogan, Ke Nako, a Sesotho phrase meaning 'the time has come'.
Their game plan for the event, the students explained, was to focus on promoting food security in Africa through increased production of food crops, enhanced smallholder agriculture, technology transfers and technical assistance, and lower barriers to trade.
"All four teams this morning [of the finals] were very strong, but I think we held our own," said Kell.
"Copenhagen was their closest competitor, but Singapore had the best speakers," summarised Attwell. "Gujarat [India's Gujarat National Law University] was the most aggressive team. Copenhagen was by far the most diplomatic and polite, and we were kind of somewhere in the middle."
The middle road seems to have worked.
---
This work is licensed under a Creative Commons Attribution-NoDerivatives 4.0 International License.
Please view the republishing articles page for more information.
---