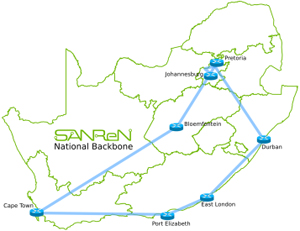 Getting connected: The SANReN network has now been completed, and will start running shortly.
In 2005, the Department of Science and Technology announced the funding and launch of the South African National Research Network, or SANReN, designed to bring the country's researchers closer together - electronically, anyway.
More formally, it was described as "a comprehensive South African government approach to cyberinfrastructure to ensure successful participation of South African researchers in the global knowledge production effort".
Recently Sakkie Janse van Rensburg, executive director of Information, Communication and Technology Services (ICTS) at UCT, attended the bookending announcement - the completion of SANReN by the Meraka Institute. An operating unit within the Council for Scientific and Industrial Research responsible for information and communication technology, Meraka has since 2006 been responsible for the implementation planning of the new network.
Meraka has now handed over the day-to-day operation of SANReN to the Tertiary Education and Research Network (TENET), who will operate the network.
What does this mean for UCT? Remote sites such as the Graduate School of Business, Hiddingh Campus, Red Cross Children's Hospital and certain residences can now be connected to the main campus via SANReN.
Migration from existing networks to SANReN will be completed by ICTS and TENET in a phased approach between late November and late December 2011. Any interruption to the network service - if required - will be announced and scheduled, mindful of the many services which depend on the network at UCT.
SANReN will bring faster connection speeds between remote UCT sites, main campus and the Internet, explains Janse van Rensburg. It will also provide a faster link between UCT and other institutions in South Africa that are on the SANReN network.
"The impact of SANReN will be one of strategic transformation to research in South Africa," says Janse van Rensburg. "The real benefit of SANReN will not only be in Internet speeds, but in how computer technology can support research, facilitating and enabling collaborative research, smaller niche research, and research requiring advanced computing."
---
This work is licensed under a Creative Commons Attribution-NoDerivatives 4.0 International License.
Please view the republishing articles page for more information.
---