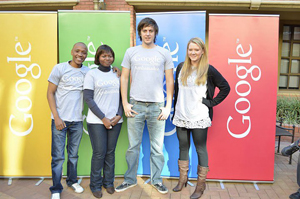 Reaching out: (From left) Linda Mahloko, Joyce Mwangama, Justin Alvey and Kirsten Eddey are four of UCT's five Google Student Ambassadors. (Absent - Ludwick Marishane.)
It's more than a website. Its name has become a verb. For global internet users, search engine Google has become an institution - and an invaluable research tool for students.
As part of its expansion plans, the company has steadily launched its Google Student Ambassador programme around the world. Tertiary students selected for the programme, says Google, would have an opportunity to act as liaison between the university and Google.
UCT currently boasts five of the 17 student ambassadors at South African universities.
They are finance and accounting students Linda Mahloko and Ludwick Marishane, electrical engineering students Justin Alvey and Joyce Mwangama and marketing student Kirsten Eddey.
Tasked with growing the profile of Google on campus and alerting students and staff to new developments in the Silicon Valley company, the ambassadors have been hard at work.
They've guest-lectured a fourth-year business strategy class on how to use Google sites and other Google applications. The ambassadors also held an online information session on 17 November for students interested in learning more about opportunities available from Google.
But responses from students and staff have been less enthusiastic than they had hoped.
"Since this is the first year the programme has been run, we have not seen a fast reaction to the ambassadorship programme from the other students or staff," says Mwangama. "At the beginning of next year we will run a Google Awareness campaign during 'O' week - then we will get to see how the university feels about the ambassador programme on a broader scale."
Besides gaining valuable experience in working as a team, ambassadors are also able (often exclusively) to apply for Google scholarships and internships.
The ambassadors say that raising awareness of Google's range of products can do much to assist students in their daily ventures.
Does being an ambassador increase one's chances of long-term employment in Silicon Valley?
"They've told us that it gives us a foot in the door," confirms Eddey.
With Google being ranked first in Fortune magazine's top 100 firms to work for in 2007 and 2008, this can only be a good thing.
While the students do not receive a stipend, Eddey says they are well looked after. The UCT ambassadors have each received a top-of-the-range Android phone, and were also invited to the annual Google South Africa conference, held in Johannesburg recently.
---
This work is licensed under a Creative Commons Attribution-NoDerivatives 4.0 International License.
Please view the republishing articles page for more information.
---