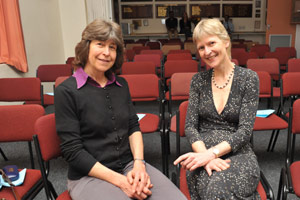 Power team: (From left) Profs Silke Dyer and Sue Fawcus were among the winners at the Department of Obstetrics & Gynaecology's Research Day.
Rising and seasoned researchers shared the same stage to showcase their work when UCT's Department of Obstetrics & Gynaecology hosted its annual Research Day on 10 November.
Among the topics covered on the day was the conduct of health professionals towards patients, the contraceptive knowledge of women undergoing repeat terminations of pregnancy, and the human papillomavirus vaccine trials in South Africa.
According to Professor Silke Dyer, acting head of the department, the presentations help to inform students and staff about each other's work.
At the event, departmental prizes were given to top researchers. Dr Dominic Richards won both the Golden Fetus award for best obstetrics research and the SJ Behrman Prize for his dissertation. The Yvonne Parfitt Prize for best paper on original research published by a member of consultant staff was shared by Professors Sue Fawcus and John Anthony.
The Boet Dommisse Prize for special contributions to the department went to Dyer. Dr Malika Patel took home the JC Coetzee Prize for the best research. Dr Nomonde Mbatani scooped the Basil Bloch Shield for her contribution to oncology. Dr Catherine Elliott was awarded the Cecil Craig Prize for registrar excellence.
Dr Kwabena Essel took the Golden Speculum award for best gynaecological research. Dr Paul Daza won the Alan Alperstein Prize for showing the most improvement in surgical skills.
This year the department also introduced some new prizes. The Peter Roos Prize for the registrar with the greatest professionalism was won by Dr Nadia Naude, and Dr Anne Horak took home the Robbert Soeters Prize as the most supportive consultant.
---
This work is licensed under a Creative Commons Attribution-NoDerivatives 4.0 International License.
Please view the republishing articles page for more information.
---