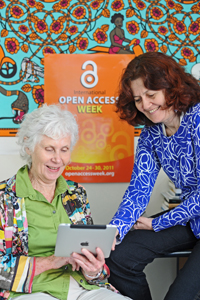 Free access: Dr Eve Gray (left) and Assoc Prof Laura Czerniewicz at the start of Open Access Week.
Licencing, copyright, patenting, intellectual property and "open stuff" were recurring buzzwords at UCT's recent Open Access Week, which aimed to raise awareness of issues surrounding the availability of academic research work.
The university's open access commemorations, hosted by the Centre for Educational Technology (CET), formed part of the global movement aimed at freeing up access to peer-reviewed journals to all students and researchers.
Seminars and lectures explaining the need for open licensing and UCT's new intellectual property policy were some of the highlights of the programme.
Open Access refers to the granting of unrestricted and free access to academic articles via the internet.
Articles that are freely available online are usually accredited with a Creative Commons Licence. Creative Commons uses a 'some rights reserved' approach to copyright, allowing greater and cheaper access to material while maintaining profitability for both copyright owners and licensees.
Standard models of availability are grounded in traditional copyright law, with the result that many articles are only available to researchers who can afford the privilege.
Dr Eve Gray, honourary research associate at CET, explains the typical life-span of a journal article. Born out of an academic's research, it is submitted to a journal of the author's choice, which Gray says is usually an American or European journal. Academics then review the article at no charge, and once accepted, the author is asked to give up copyright and the journal is sold to universities at a high price.
Gray is among a host of intellectual property gurus who are determined to create a more equitable and affordable academic knowledge-sharing environment. "It's a human rights movement," she says, with the right to knowledge a key driver of the campaign.
---
This work is licensed under a Creative Commons Attribution-NoDerivatives 4.0 International License.
Please view the republishing articles page for more information.
---