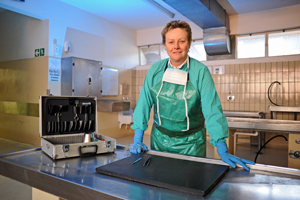 Office hours: Prof Lorna Martin, here in scrubs at the Salt River Pathology Laboratory, still remains a hands-on pathologist, despite her duties as head of UCT's Division of Forensic Medicine.
You needed a strong stomach for Professor Lorna Martin's inaugural lecture.
But it wasn't just the graphic images dotted throughout the lecture, titled No Woman No Cry - A journey into forensic pathology services and violence against women, delivered in October. More brutal, perhaps, were the stories and statistics.
In what was in many ways a straightforward recounting of her career as a forensic pathologist, Martin started, more or less, with her medical studies at Wits University. It was here that she was "enticed" into forensic pathology as a fourth-year student by an "inspirational teacher" in one Dr Patricia Klepp.
Martin couldn't immediately follow in her mentor's footsteps, though. Unable to find a post in forensic pathology, she instead began as a district surgeon in Hillbrow in 1991. The post was in effect that of a catch-all clinical forensic medical practitioner, and Martin worked with everyone from drunken drivers to political detainees. And rape victims.
"It proved to be quite fortuitous," Martin says of the job, "because amongst these other things it exposed me to the clinical management - or lack thereof, actually - of rape survivors."
The job also got her picture in the papers. In 1992, she appeared in Die Beeld when she testified in the case of bodybuilder Gary Beuthin, charged with the kidnapping, assault and attempted murder of a former girlfriend. In an even more high-profile case, Martin had to treat serial killer Moses Sithole, who committed the so-called 'ABC Murders'.
The post also inspired Martin's first research. In December 1993, her study of rape in Johannesburg was published. Already a disturbing pattern was becoming clear - many victims were raped by men they knew.
That research persuaded her to establish the country's first medico-legal clinic for rape survivors, set up in Hillbrow in 1992. Hand in hand with the clinic, Martin also developed examination and management protocols for rape survivors, and a training programme for staff of that and other (possible) clinics.
More high-profile cases would follow, such as that of the Nasrec Serial Killer, Lazarus Mazingane. And when Martin moved to Cape Town in 1996, her research would also blossom under the mentorship of Professor Deon Knobel, who was beginning to put together a formidable team in UCT's Division of Forensic Medicine and in the province's State Pathology Laboratory.
Martin's 1996 to 1998 study of the Cape Metropole showed that coloured women made up the overwhelming proportion of rape-homicide victims, a full 70% of cases. More often than not, the perpetrator was someone the women knew, sometimes intimately. (It's here that the graphic images of brutalised victims came in.)
Those trends would be mirrored when Martin later tracked rape-homicide statistics in the province up to 2005, in a study conducted in partnership with colleagues from the School of Nursing from Johns Hopkins University in the US.
If there was good news to come out of this research, it was that it prompted Martin and colleague Professor Lynette Denny to develop a rape management protocol and training manual for the province. It also sparked new undergraduate courses in women's health, especially dealing with violence and health.
Martin's advocacy work also took off. She was invited to talk at a meeting of Amnesty International in 1998. She worked closely with the South African Police Service and a number of women's health groups, contributing to new legislation. She consulted to the World Health Organisation - and still does - on the health sector response to sexual violence. She published prolifically. In 2004 she helped set up the Gender, Health & Justice Research Unit at UCT. She was part of the team that did a prospective study of post-exposure prophylaxis following sexual assault in South Africa. That same year she contributed to a national female murder study, which revealed that a woman is killed by an intimate partner every six hours. (Coloured women were again the most common victims.)
There was more research, more headline-catching cases, more terrifying cases and statistics. Martin also got to meet murder-mystery writer, Patricia Cornwell, who coined the famed medical examiner Kay Scarpetta, lead character of 19 of the author's novels thus far.
Now head of forensic medicine at UCT, Martin is looking ahead. The department is growing. There's the work on the digital-age Pathology Learning Centre, and the dream of a UCT Forensic Medicine Institute, which would be a first for Africa. Parts of this institute are already falling in place, including a new high-tech mortuary on the grounds of the Groote Schuur Hospital, courtesy of the provincial government's Department of Health, and new master's programme in forensic medicine, a first for the country.
All this in aid of a single objective, explained Martin. "Basically our core business is providing a voice for the dead. And we are the only ones able to do it."
Listen to a podcast of Professor Lorna Martin's inaugural lecture.
---
This work is licensed under a Creative Commons Attribution-NoDerivatives 4.0 International License.
Please view the republishing articles page for more information.
---