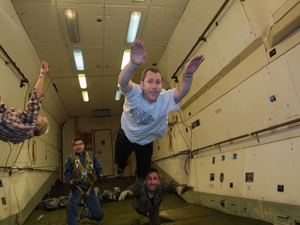 Lift-off: Prof Wayne Derman's career has had many memorable moments, such as when he (front) joined Mark Shuttleworth and Russian cosmonauts with a bit of zero gravity training.
Even after he'd finished his medical studies, Professor Wayne Derman was unsure which direction his medical career was heading.
After a stint in the surgical pit at Baragwanth Hospital, he soon discovered that acute medicine, ie treating those who line hospital corridors, was not for him. But his professors didn't think much of at least one of the jobs he had lined up - as a medical doctor at a Club Med resort. (The other was ship's doctor on the ill-fated MS Achille Lauro.)
But he dodged those bullets (literally, in the case of the Lauro), and it all worked out pretty well in the end, as Derman explained in his inaugural lecture, Broken Hearts, Wattle Trees, Spacemen and a Man With One Leg: My extraordinary journey in medicine, delivered at the Sports Science Institute of South Africa on 5 October.
It all changed when Professor Asher Dubb at Baragwanath Hospital, where Derman was based, suggest he, Derman, fly to Cape Town and meet one Professor Timothy Noakes, to pursue a career in Sports Medicine. This, suggested Dubb, would allow Derman to marry his passion for sport with his passion for medicine.
It did, and in more ways than one, as Derman outlined in his four-stage lecture.
Broken Hearts. Initially, sports medicine was simply a byword for the treatment of sports injuries. That's changed. Sports and exercise medicine, as an increasingly reputable medical specialty, has a strong focus on the prevention and management of patients with chronic disease. Much of Derman's early work - with what was to become the Medical Research Council/UCT Research Unit for Exercise Science and Sports Medicine (ESSM) - was on the association between exercise and heart disease. That research spilled over into more "holistic" studies on muscular damage, diabetes, cancer, peripheral vascular disease, psychosocial stress and a range of chronic diseases; with exercise, diet and stress management emerging as an important lifestyle intervention in the management of the above-mentioned 'chronic diseases of lifestyle'.
Wattle Trees. Derman was chief medical officer for the South African teams that took part in the Sydney Olympics in 2000 and the Athens Olympics in 2004. He was also medical officer for the squad that travelled to the Paralympics in Beijing in 2008, and the medical officer for Cape Town at the FIFA 2010 World Cup.
And, again, if anyone thought that injuries would account for most of the medical team's labours, Derman's studies showed quite the contrary. Illnesses and allergy, particularly related to the respiratory and ear, nose and throat systems were as much of a concern, he found. (That applied to rugby's Super 14, too, a later study showed.)
"These medical conditions are as important as injuries are," Derman said.
Take his experiences before and at the 2000 Olympics. Fearing that Sydney's wattle trees would be a major hurdle, Derman and colleagues at the UCT Lung Institute ran a series of tests with the athletes, and found that more than half of the SA team were atopic, ie prone to allergic reactions.
YouTube Video: UCT's Professor Wayne Dermans speaks about his work in sports medicine
---
This work is licensed under a Creative Commons Attribution-NoDerivatives 4.0 International License.
Please view the republishing articles page for more information.
---