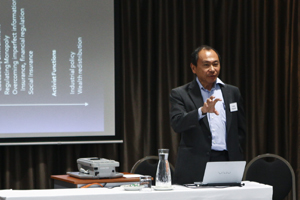 The private and the public: Prof Francis Fukuyama is presenting a course and a public lecture at UCT this week.
Visiting scholars Professors Francis Fukuyama and Roger Leeds are presenting a training programme at UCT about the role of public policy in private sector development.
Participants include high-level government officials in economic development and strategic leaders from the business community. The course is designed to illustrate and reinforce what the convenors refer to as "critically important" hypotheses about the role of public policy in private sector development. It also highlights four components of private sector development that organisers believe require effective public policy, namely industry promotion, investment promotion, public private partnerships in infrastructure and access to finance.
The course runs from 24 to 27 October and is tied in to the development of a new Graduate School of Development Policy and Practice (GSD) at UCT.
Stanford academic Fukuyama, widely known for his controversial 1992 publication The End of History and the Last Man, will also introduce his new book, The Origins of Political Order, at a public lecture in UCT's Beattie Theatre on 26 October at 19h00.
---
This work is licensed under a Creative Commons Attribution-NoDerivatives 4.0 International License.
Please view the republishing articles page for more information.
---