Artists and curators reflect on the environment and COP17 at Michaelis | SA academics pool their expertise for two landmark titles by the South African Environmental Observation Network | UCT lecturer wins award for research on health and safety in the construction industry | Pre-final-year medical students have a pre-farewell bash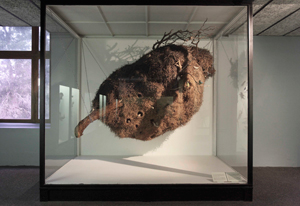 COP17, aka the United Nations Framework Convention on Climate Change, scheduled for Durban in November and December, is occupying the thoughts of many South Africans. Including its artists and curators, going by two exhibitions hosted by the Michaelis Galleries and Gordon Institute for Performing and Creative Arts (GIPCA) at the Michaelis Galleries from 24 September to 19 October. Michaelis senior lecturer Virginia MacKenny curates Threshold, an exhibition of "environmentally conscious art" showing in the Michaelis Main Gallery, with climate change very much in mind. Running at the same time is A Conversation with Bolus: Science, sensibility, sensuality, exhibited in the Michaelis Upper Gallery and curated by Nadja Daehnke. This exhibition not only celebrates the works of amateur botanist Harry Bolus, but also incorporates a selection of contemporary artworks to play off manuscripts, art and objects from the Bolus collections. Artists contributing to the exhibitions include Thomas Mulcaire, Jeremy Wafer, Lucas Thobejane and Lien Botha, whose photograph Sociable Weaver's Nest appears in picture.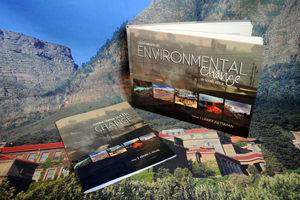 The two publications recently released by the South African Environmental Observation Network (SAEON) should be judged by their covers. The colourfully illustrated, 300-page Observations on Environmental Change in South Africa sets out to cram as much detail about environmental change in the country between its glossy covers - covers that depict pollution, drought, storm and soil erosion, among other worrying natural and man-made events. The volume brings together the contributions of over 100 authors, including a number of UCT academics, from 32 local and eight international organisations. In turn, the more precise and spartan Combat Change with Change - those same pictures on its covers - translates its voluminous counterpart into long-term policy suggestions.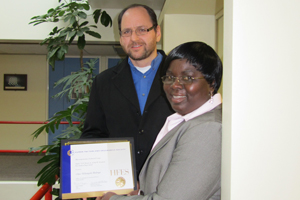 Chao Nkhungulu Mulenga (right in picture), a lecturer in organisational psychology in UCT's School of Management Studies, picked up an award for best paper - and $250 in prize money - at the 10th International Symposium in Organisational Design and Management. The conference, held at Rhodes University, looked specifically at the human factors in organisational design and management. Mulenga's paper was based on her doctoral research, which investigated the relationship between leadership, work pressure, and health and safety behaviour in the South African construction industry. She found that although top management were key in the development and framing of health and safety policies and procedures, it was the proximal supervisors who really shaped the health and safety behaviour of workers.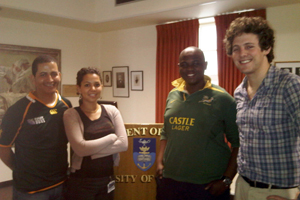 Medical students generally wait until their final years before someone throws them a party. Then, naturally, it's a farewell party. But this year a couple of MBChB students - committee members Arthon Alfred,Tesham Naicker (deputy chair), Lwando Maki (chair) and Nicholas Giles, in picture - got together to raise funds and stage a pre-graduation party for, as the name suggests, the fifth-year medical students. And, according to reports, class members turned out in their numbers at the Trenchtown restaurant in Observatory on 24 September. Rather than say their adieus, students could instead concentrate on strengthening their relationships with classmates, the faculty and the university. "From my student leadership perspective," says funding rainmaker Maki, "the university needs its alumni, its alumni donations and its alumni affiliations."
---
This work is licensed under a Creative Commons Attribution-NoDerivatives 4.0 International License.
Please view the republishing articles page for more information.
---