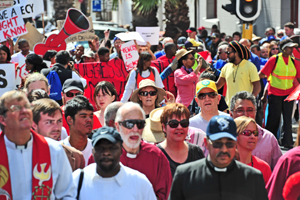 Mass action: Protestors filled the streets of Cape Town as they marched on Parliament.
When members of the UCT community joined the Right 2 Know campaign's march to Parliament on Saturday 17 September to protest the passing of the Protection of State Information Bill in the National Assembly, they put their weight behind a broad groundswell in civic society. Altought the march has been hailed as a victory, a decision on the Bill is not yet final.
Among those who addressed the throng at Parliament were the vice-chancellor, Dr Max Price; president of the Students' Representative Council, Amanda Ngwenya; former minister of intelligence, Ronnie Kasrils; and the leader of the Treatment Action Campaign, Zackie Achmat. One by one the speakers raised their objections to the bill, which went before the National Assembly on Tuesday 20 September.
"We must oppose at each turn those who make that struggle [against the repression of civil liberties] meaningless," said Ngwenya.
"This campaign, this coalition of students, of citizens, of NGOs, even of political parties, this campaign has changed the original bill, and we have won victories, and we must realise how strong we are and that we have the strength to win the last victory," said Price.
Among the marchers were academics, students and PASS staff from the Graduate School of Business, the Faculty of Law, the International Academic Programmes Office, the Departments of English and Sociology; even the UCT Rugby Club, among others.
On the eve of the march, UCT's Senate issued a statement decrying the bill, noting that it would appeal to Parliament to include, among other things, a clause that would allow for classified information that conceals wrongdoing or maladministration to be exposed in the public interest. Senate also raised concerns about the lack of an appeal mechanism other than to the minister who classifies the information. Senate would also appeal directly to President Jacob Zuma, the statement said, to refer the bill to the Constitutional Court for pre-promulgation certification, should Parliament not make suitable amendments.
---
This work is licensed under a Creative Commons Attribution-NoDerivatives 4.0 International License.
Please view the republishing articles page for more information.
---