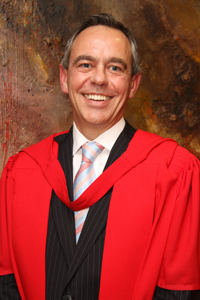 Race ahead: According to Prof Pierre de Vos, South Africans - and its courts - need a more nuanced look at racial issues.
Even the Constitutional Court doesn't always get race quite right, Professor Pierre de Vos suggested in his inaugural lecture, The Past is Unpredictable: Race, redress and remembrance in the South African Constitution, delivered at UCT on 14 September.
De Vos, who holds the Claude Leon Foundation Chair in Constitutional Governance in the Department of Public Law, started his lecture off close to home, though - UCT's admissions policy. (One of the countless issues he's covered in his many media commentaries and in his [in]famous blog, Constitutionally speaking.) If the university has taken a beating in the media and in corners of the country for this policy, which uses race as a proxy for disadvantage, it's because, said De Vos, its critics have overlooked the reality that the issues of race "continue to permeate every aspect of both public and private life" in South Africa.
So the paradox and conflict remains - despite the Constitutional commitment to non-racialism, problematic racial categories are still "inscribed" in the country's law books and policies. And, ironically enough, those categorisations, while ostensibly used for purposes of redress, can well perpetuate the inequalities and race-based hierarchies of apartheid.
The Constitutional Court, too, has not always taken sufficient care when bandying those racial categories about. Especially when tackling the issues of race and redress, said De Vos.
So, the Constitution prohibits unfair discrimination on the basis of a range of criteria, race included. On the other hand, it does not prohibit the use of race when addressing the "effects of past unfair discrimination or when addressing the lingering effects of racial discrimination and racism", he pointed out.
The Constitutional Court understands the need for race-based corrective measures, but also appreciates that there are limits to such corrective measures. (And that redress can be a win-lose thing where one group benefits at the expense of another.)
But while race-based measures of redress are required to address the effects of past and on-going racism and racial discrimination, this must done by having "regard to South Africa's past" a past that South Africans do not always see in the same light. A little more finesse, more "nuance", is also required when dealing with the country's history, said De Vos.
"Neither attempting to sweep the past racism and racial discrimination and its ongoing manifestations and effects, which continue to haunt our country, under the carpet; nor reducing or simplifying the story of our past to one in which human beings only existed as markers for their racial identities."
This will mean, argued De Vos, renouncing simple "grand narratives", whether the one of a corrupt and dark Africa populated by "corrupt, untrustworthy and lazy" Africans, on the one hand, and another - which the Constitutional Court has embraced, according to De Vos - of a "heroic and noble anti-apartheid struggle led by the ANC against an evil apartheid regime".
Both threaten to reduce individuals to mere symbols or representatives of a particular racial or language group, said De Vos. Instead, South Africans should embrace "many small micro-narratives that recognise the individuality of each person".
"Like Jacob Dlamini did in his book Native Nostalgia, we want to tell stories that humanise our lives and particularise our experiences without airbrushing away the past and without denying the lingering effects of ongoing racial injustice around us," he said.
Download the podcast of the lecture.
YouTube Video: Prof Pierre de Vos delivers his inaugural lecture at UCT
---
This work is licensed under a Creative Commons Attribution-NoDerivatives 4.0 International License.
Please view the republishing articles page for more information.
---